Summer solstice was yesterday, as I'm sure most of you know. The summer solstice technically is the first day of summer, though historically it has been called midsummer by farmers since the crops are planted and well on their way to producing. The summer solstice is the longest day of the year. From here on out the days get shorter until the winter solstice in December. This solstice reminds us that a new season is here (one of great bounty) and it also reminds us that time is passing, that the days are getting shorter, and that each day is precious. I've always felt simultaneously in awe of the summer solstice and a creeping anxiety about the subsequent shortening days and the passage of time.
What better way to celebrate the end of spring and beginning of summer than with some quality time with our pig friends? My friend Karen and her son Oliver and I drove up to Pigs Peace for a visit this week. It was Karen and Oliver's first time there and we had a really great time. Pigs Peace is now in full visitor season swing and there were about a dozen other people there for a tour/visit. We met a new pig, Lucy: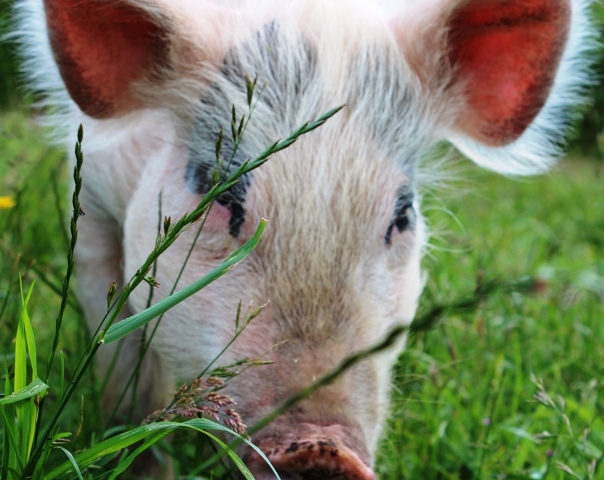 Lucy was rescued from slaughter by a man out on the Olympic Peninsula and made it to Pigs Peace where she settled in right away. She is extremely friendly and will walk right up to you and nudge you for some pats and scratches.
I attended a zoo field trip a while back with Oliver's kindergarten class. Karen went ahead of time into the classroom to talk to the class about why Oliver's family does not go to the zoo. Karen had decided that it was important for Oliver to go at least once to the zoo to understand what it is and why they do not support the zoo. When we were at the zoo, we saw the Ossabaw pig they had there (Wilber). He is, by now, a senior pig and has spent his whole life in the zoo. The space he had was a small pen with dirt and straw. The zoo had decided to retire Wilber and get new pigs for a new exhibit and so Judy was negotiating with them to allow Wilber to retire at Pigs Peace. Wilber: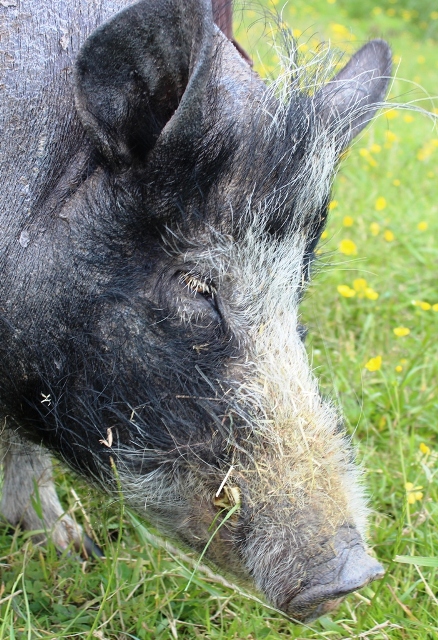 On our way up to Pigs Peace in the car, Oliver asked about Wilber's story and I related to him how Wilber, upon his arrival at Pigs Peace, ran out of the trailer into the grass (he had probably never seen grass) and was immediately exploring his new digs. Later, at Pigs Peace, Oliver approached Judy and said, "Excuse me, Judy. Katie said that when Wilber arrived, he literally [yes, the six year old uses the word 'literally'] ran out of the trailer he was so happy to be here."
Judy replied, "That's right, Oliver, he did."
Oliver: "Precisely how fast did he run out of the trailer?"
Judy: "Very fast."
We spent some time giving Wilber some scratches and hanging out with Lucy and the fast-growing piglets, Elmer, Gus, and Maynard: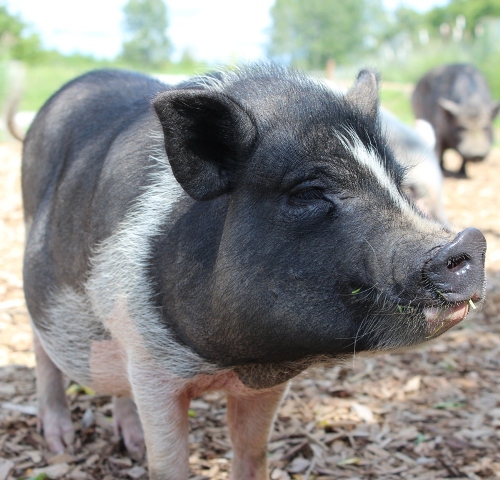 And Larry, a super sweet, senior pot bellied pig: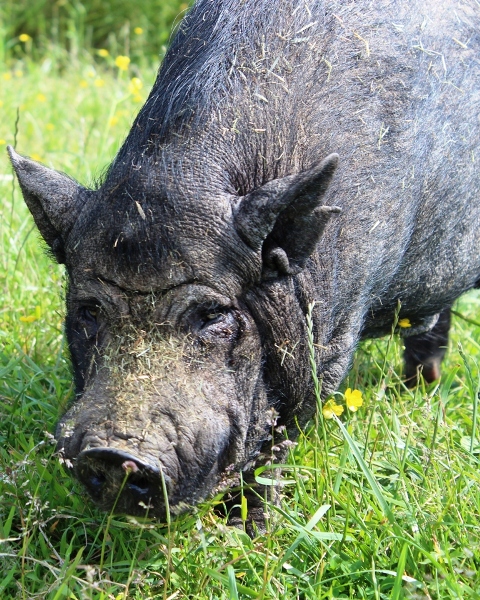 Of course, we had to say hello to Bailey who is blind and the biggest sweetheart: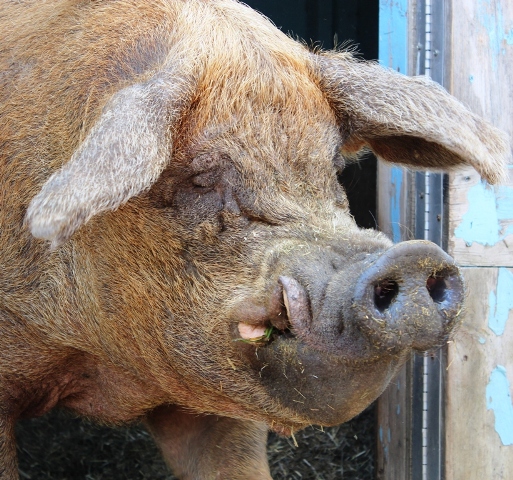 As we were walking around, Oliver came up beside me and said, "Katie, Pigs Peace makes me feel like I could cry I'm so happy."
"Me too, Oliver. Me too." I replied. What a sweet, sensitive, little boy.
Honestly, I can't think of any way I would rather celebrate the solstice or anything else than to spend time with kind and loving humans at a sanctuary where animals are allowed to live in peace.
How do you like to celebrate? How did you acknowledge the solstice?