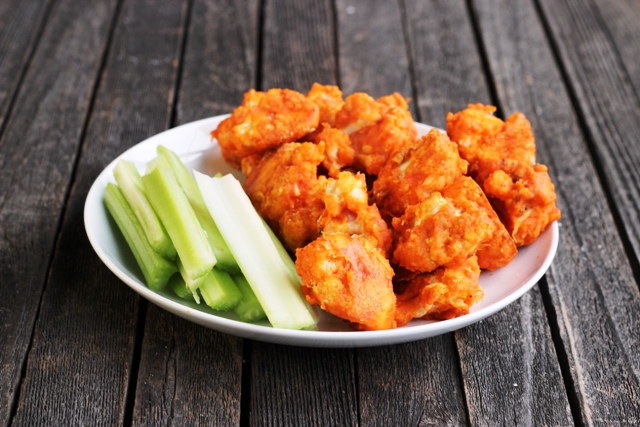 I love cauliflower. Like, really love it. It didn't used to be a food I really thought much about, but something happened in the last few years and I just can't get enough of the stuff. I love it raw, roasted, tandoori roasted, and I just discovered this week that I love it mashed, too (recipe coming eventually to the old blogaroo). These spicy buffalo cauliflower bites are a whole new preparation (for me, at least — I know they're already a thing in the blogosphere) — spicy and loaded with flavor, with a creamy, moist cauliflower inside. Yum! They would be a great snack for parties, football games, or if you're just spending the day on the couch, like me, watching movies and TV. Be sure to serve with celery at the least, and a vegan ranch dressing if you like that sort of thing. They do need something cooling to complement their spiciness.
When I started thinking about making these, I looked online for recipes for buffalo cauliflower and most of the recipes I found used a batter. I didn't like the idea of doing a batter for these; it sounded messy and I remembered that most of the buffalo wings I ate before becoming vegan were not battered. So I looked up recipes for buffalo wings and then adapted the best of those in conjunction with some of the buffalo cauliflower recipes. The result, I think, is quite nice. A light batter feel without the messiness of the dipping.
The Recipe
1 head of cauliflower
2 TBLS vegetable oil
1/2 TSP salt
3/4 TSP garlic powder
generous grinds of black pepper
1 CUP all-purpose flour (or GF flour)
1 CUP buffalo sauce or your favorite hot sauce (I don't have a particular brand recommendation, but see what your local grocery carries and check the ingredients to make sure it's vegan).
Preheat oven to 450° F. Cut cauliflower into bite-sized florets. Toss in a bowl with oil, salt, pepper, and garlic powder. Put the flour in a plastic bag (a reused produce bag works well for this) with the cauliflower and shake until the cauliflower is well-coated with the flour. Prepare a greased baking sheet or a baking sheet lined with parchment (this is the best) and place the flour-covered cauliflower on the sheet. Bake for 18 minutes. In the same bowl you used to toss the cauliflower and oil, gently toss the cauliflower together with the hot sauce. When the cauliflower is nicely coated with the sauce, gently place the cauliflower bites back on the pan and pop them into the oven for another 5-8 minutes. Serve with celery and your favorite vegan ranch dressing (if you like that sort of thing).
Find Serenity in the Storm on Facebook, Instagram, Pinterest and/or Twitter.