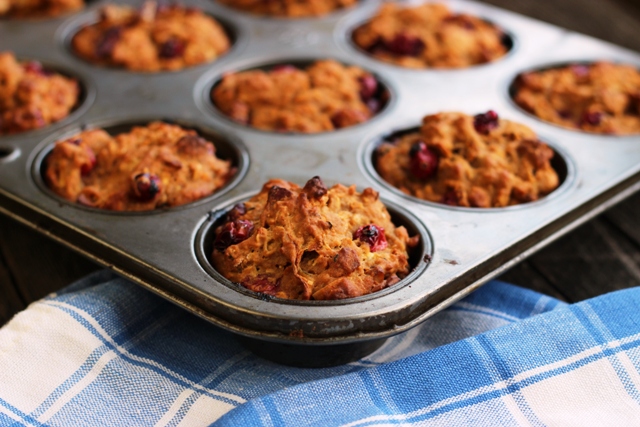 As I recall, I didn't have my first morning glory muffin until later in life than I probably should have. I remember it well. I got one from Rainbow Grocery on Capitol Hill in Seattle and loved it (this was well before it, sadly, closed). I've been thinking about morning glory muffins a lot lately for some reason — something about their heartiness and the change of seasons, I suppose. I had some leftover fresh cranberries in the fridge from a semi-failed raw cranberry bar recipe I was working on (still needs some serious work). And I've been stocking up on organic (BPA-free) canned pumpkin at Costco while they have it for this month leading up to Thanksgiving. The pumpkin is mostly for the dogs, but we occasionally eat some, too. So I thought I'd make up an autumn-inspired morning glory muffin.
Just the name — Morning Glory Muffin — puts a little spring in my step. It's a cheerful name for a muffin and this version lives up to that name with a nice dose of autumn glory.
The Recipe
Makes 1 dozen large muffins
2 CUPS flour (you can use a combination of white/whole wheat)
1/2 CUP oats
1 TBLS baking powder
1/2 TSP salt
1 1/2 TSP cinnamon
1 TSP ground ginger
1/2 CUP applesauce
1/2 CUP pumpkin
3 TBLS molasses
1/4 cup maple syrup
1 CUP nondairy milk
1/4 cup melted coconut oil
2 TBLS minced fresh ginger
1 CUP fresh cranberries
2/3 CUP shredded coconut
2/3 CUP chopped pecans
1 CUP grated zucchini
Preheat oven to 400° F. Squeeze excess moisture out of the grated zucchini. Mix all dry ingredients in one bowl, including cranberries, coconut, and pecans. In a separate bowl, mix together the wet ingredients, including the zucchini. Add the dry ingredients to the wet and stir to combine. Some small lumps are fine. Do not over mix. Grease a muffin tin and spoon batter into the tins. Bake for 20-25 minutes, or until a toothpick comes out clean.
I enjoyed one of these still warm from the oven and it was divine — moist and full of fall flavors. Tart cranberries, spicy ginger, the crunch of pecans, cozy hints of cinnamon and coconut, and the subtle pumpkin base…Yum!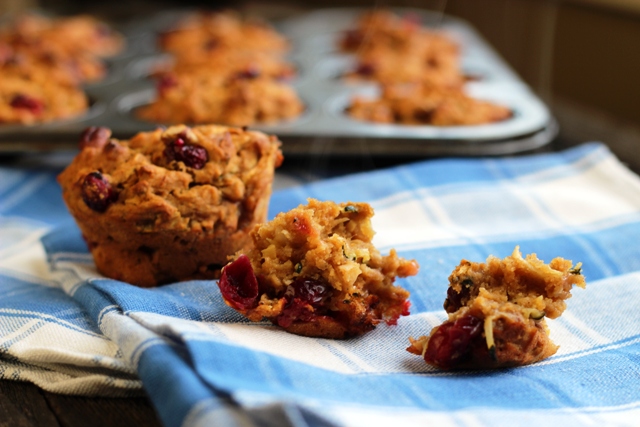 Find Serenity in the Storm on Facebook, Instagram, Pinterest and/or Twitter.