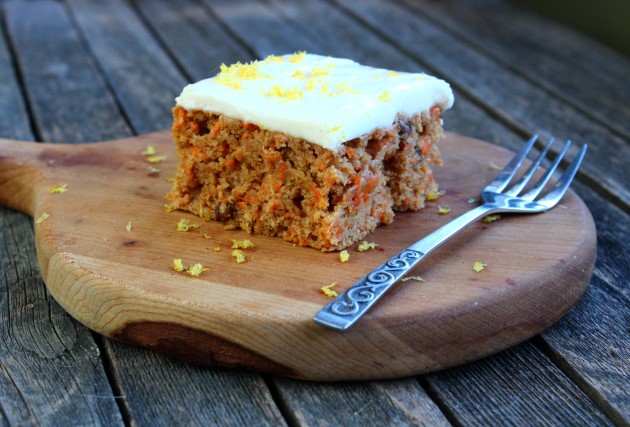 For years, I've been making vegan carrot cakes from recipes I find online or from vegan cookbooks, but recently I wanted to play around and create my own recipe. The recipes I had been using were good, but I always found something I didn't like about the recipes – either they were too springy/spongy, too sweet, too clove-y, etc. I love carrot cake and I hadn't yet found the recipe that mirrored what I wanted the cake to be when I imagined eating it. So this is the result.
It's moist, dense (but not overly so), not-too-sweet, and I think the lemon cream cheese frosting is a nice contrast to the cake. I've included raisins in the recipe, which are optional of course. If you're a nuts-in-cake kind of person, you might want to add 1/2 – 2/3 CUP chopped walnuts either to the cake batter when you add the raisins and carrots, or you could finely chop them and sprinkle on top of the frosting.
The Recipe
Makes one 13 x 9 pan
2 1/4 CUP all-purpose flour
3 TSP baking powder
1 TSP baking soda
1 TSP salt
2 TSP cinnamon
2 TSP ground ginger
1/8 TSP nutmeg
1 CUP nondairy milk
2 TSP vanilla
1/2 CUP applesauce
1/2 CUP vegetable oil
2/3 CUP sugar
2 1/2 CUPS grated carrots
1 CUP raisins
Preheat oven to 325° F. Grease a 9 x 13 pan (I used a little coconut oil). In a mixing bowl, whisk together the flour, baking powder, baking soda, salt, cinnamon, ginger, and nutmeg. In a separate bowl, mix together the milk, oil, applesauce, vanilla, and sugar. Stir the wet ingredients into the dry, mixing only enough to combine. Fold in the grated carrots and raisins. Spread evenly in the pan and bake for 30-35 minutes (or until a toothpick comes out clean). While the cake bakes, you can make the frosting.
FOR THE FROSTING:
1/4 CUP vegan cream cheese
1/4 CUP coconut oil (I used refined coconut oil so it wouldn't have a coconut taste, but you can use unrefined if you like the coconut flavor)
~3 CUPS powdered sugar
1 TSP vanilla
2 TBLS lemon juice
1 1/2 TBLS lemon zest
In a food processor or with an electric mixer, blend the coconut oil and cream cheese together until smooth. (You can do mix this with a spatula or spoon by hand if you're feeling strong.) Add the vanilla and lemon zest. Add a cup of the powdered sugar and the lemon juice and blend to combine. Add the remaining powdered sugar a cup at a time. Taste and adjust vanilla, lemon juice, zest. You can also add additional sugar if you like a stiffer texture and to add more volume. There's lots of flexibility with this frosting recipe and I often just eyeball the measurements and taste as I go.
Cool the cake completely before spreading the frosting evenly over the cake. You can zest a little lemon on top for decoration, if you're feeling fancy. Store the cake in the fridge until you're ready to eat it. Enjoy!