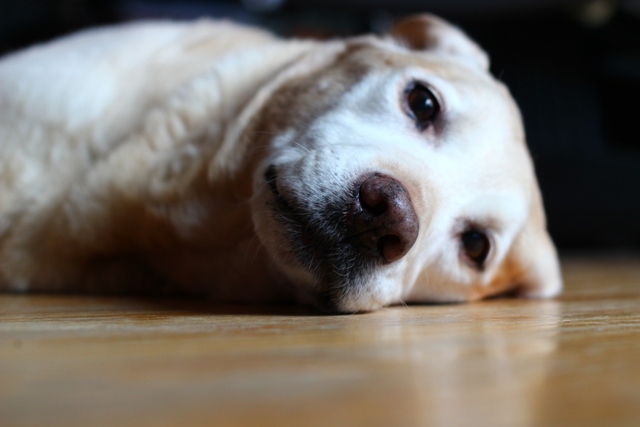 At the beginning of October this past fall, we found out that sweet Maizy had a large cancerous tumor in her chest, surrounding her heart. She stayed in hospital for a couple of days, while they ran tests and tried to get her heart rate under control. We were able to bring her home – and continued to consult veterinary specialists, surgeons, and our regular vet about what, if anything, we could do. She was not a good candidate for surgery and we made the decision to just try to keep her comfortable and happy for whatever little time she had left. The specialists predicted she wouldn't have more than a few months.
It was the first of October when we got the diagnosis. By the first of January, Maizy was gone. In the months leading up to her death, I thought a lot about death and dying and what it means to be in a position of deciding when and how an animal whose care I was responsible for would die. Eric and I talked at length about the ethics of making these decisions – the power relations inherent to deciding to kill, or end the life of, another being. We wanted, more than anything, for her to have as many good moments as possible and no moments of pain and suffering. Sometimes, in the difficulty of letting go of those we love, we can hold on too long and cause those who are dying unnecessary or lingering pain. We didn't want to do that with Maizy.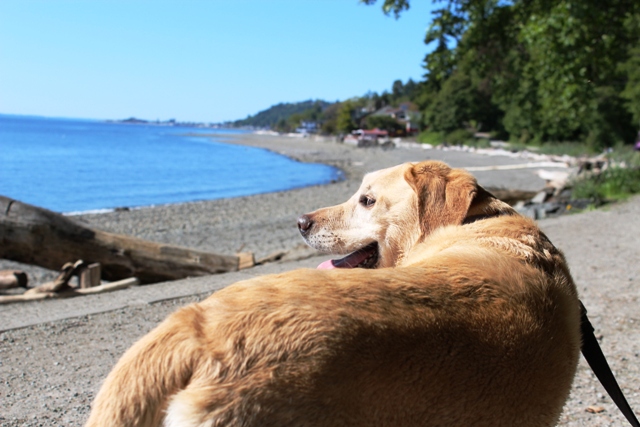 From living with dogs, I think I understand that they live in the moment – her joy in moments of play, her ecstasy while having her belly or her butt scratched, her glee at tearing the stuffing out of her stuffed hedgehog and watching eagerly as I stuffed it back in so she could pull it out again. We wanted her to have as many of these moments of joy as possible. But lurking behind this hope was also the knowledge that living in the moment might make moments of pain and suffering all that much worse.
Euthanasia literally means "a gentle or easy death" or "a good death." We spent the fall preoccupied not only with trying to make every day a good one for Maizy, but also worrying about what a good death would be for her. We watched her closely, trying to ensure that she was properly medicated with her pain relievers and calling the vet to adjust medications so that she would be more comfortable. We took her on her own walks, separate from the beagles so she could have alone time with us and go at her own pace. We got her some new orthopedic dogs beds to try to make her sleeping during the day more comfortable. She would paw at the edge of our bed at night and we continued to lift her frail body up onto the bed so she could sleep with us. I got her hedgehog out each day and let her pull the stuffing out over and over. We snuck her extra treats when the beagles weren't looking.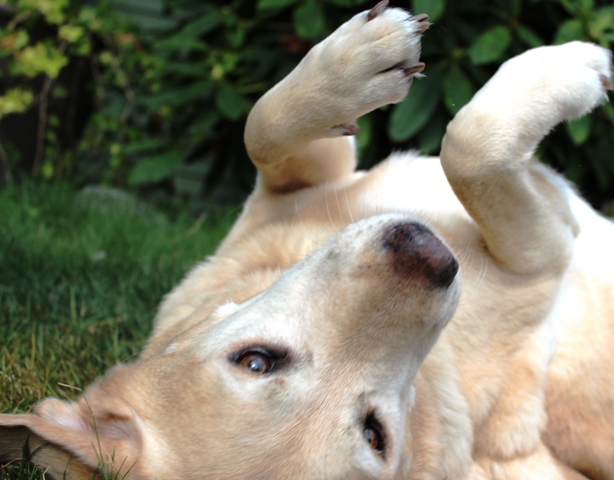 After her diagnosis, she had almost three months of good moments and then, suddenly, the moments weren't good and we knew it was time. My dad was staying with us when we took her into the vet to be euthanized. It was early in the morning and Eric rode in the back seat with Maizy, petting her and telling her what a sweet dog she was. I drove. In the room at the vet, we sat around her petting her and talking to her, trying to put her at ease and make sure she felt loved and care for. She wagged her tail. And then the vet injected the drug and she laid her head down on the bed and Eric felt her heart stop.
Mourning Maizy has preoccupied a lot of my conscious and subconscious energy these last months. I still wake up before dawn and expect her to be there sprawled across the end of the bed. I still sit at my computer working and catch a glimpse of her wiggly yellow self out of the corner of my eye or I imagine that I hear her tail thumping on the floor, reminding me that it is time for a walk. Every time I see a yellow lab on the street, I tear up. I replay her death over and over in my mind. I hope it was a good death. And I hope she had a good life with us. I think she did.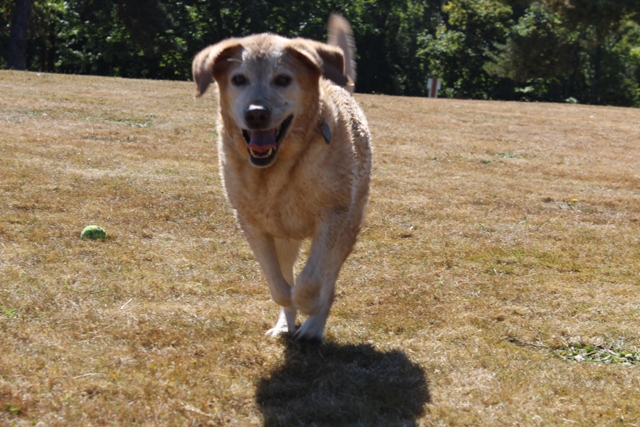 I learned so much from Maizy about joy and love and forgiveness and healing. Knowing her and loving her taught me how to love in a whole new way. She was the first dog I had ever lived with and being with her opened my heart so much to thinking about other animals and the impact we have on their wellbeing and care. She had already gone through so much neglect and hardship when we first met her. Our neighbor had taken her in temporarily while she was looking for a permanent home for her, and I remember the first time I saw her so vividly: I came out into our yard, looked over our neighbor's fence, and there she was – a big smile on her face and her tail wagging emphatically. I loved her immediately.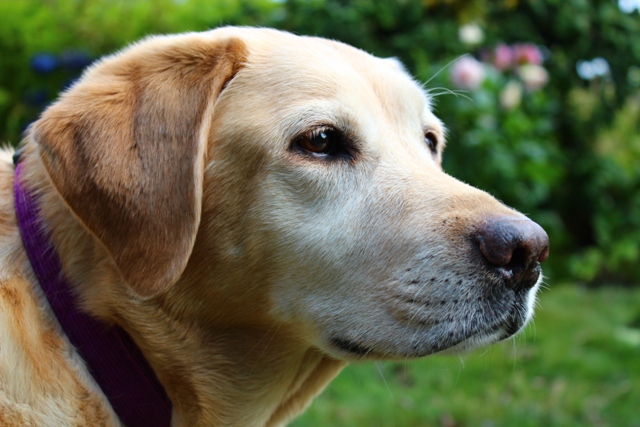 Winnie the Pooh once said, "How lucky I am to have something that makes saying goodbye so hard." I feel so lucky to have shared these years with Maizy, so lucky to have learned from her and loved her, and I feel so sad that she is gone.