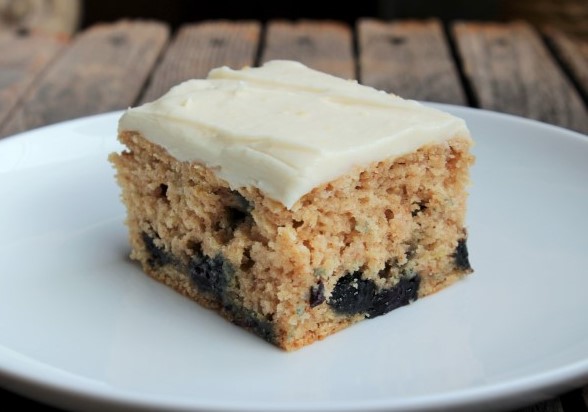 Hello! I hope you all are doing well and enjoying the summer so far! It has been so freaking hot here in Seattle this summer so far. I've been doing a lot of sitting front of the fan writing and eating cold watermelon, popsicles, and icy smoothies. I'm finishing up my book manuscript right now and it's actually been fun being in a regular writing routine.
Anyway, I've spent the last 6 or 8 months doing a lot of not cooking, but the last few weeks I've definitely been starting to come out of this rut of not being inspired to cook. I've just finished up my last quarter of teaching for the school year (today was my last day!) and did some baking for our last couple of classes. For today's class, I made this blueberry cake with lemony cream cheese frosting. Last week, I made a carrot cake with cream cheese frosting (I'll post the recipe for that one soon).
I wanted to do something with the blueberries we had in the fridge since it's blueberry season and I love the combination of lemon and blueberry. This cake is moist, sweet and with a nice brightness from the lemon.
The Recipe
Makes a 9 x 13 pan
FOR THE CAKE:
2 1/4 CUPS all-purpose flour
3 TSP baking powder
1 TSP baking soda
1 TSP salt
1/2 TSP cinnamon
1 CUP non-dairy milk
2 TSP vanilla
1/2 CUP vegetable oil
3/4 CUP sugar
1/2 CUP applesauce
2 TBLS lemon zest
2 CUPS blueberries (fresh or frozen)
Preheat the oven to 325° F. Grease a 9 x 13 pan (I used a little coconut oil). In a mixing bowl, whisk together the flour, baking powder, baking soda, salt and cinnamon. In a separate bowl, mix together the milk, oil, applesauce, vanilla, and sugar. Stir the wet ingredients into the dry, mixing only enough to combine. Fold in the blueberries. Spread evenly in the pan and bake for 30-35 minutes (or until a toothpick comes out clean). While the cake bakes, you can make the frosting.
FOR THE FROSTING:
1/4 CUP vegan cream cheese
1/4 CUP coconut oil (I used refined coconut oil so it wouldn't have a coconut taste, but you can use unrefined if you like the coconut flavor)
~3 CUPS powdered sugar
1 TSP vanilla
2 TBLS lemon juice
1 1/2 TBLS lemon zest
In a food processor or with an electric mixer, blend the coconut oil and cream cheese together until smooth. Add the vanilla and lemon zest. Add a cup of the powdered sugar and the lemon juice and blend to combine. Add the remaining powdered sugar a cup at a time. Taste and adjust vanilla, lemon juice, zest. You can also add additional sugar if you like a stiffer texture and to add more volume. There's lots of flexibility with this frosting recipe and I often just eyeball the measurements and taste as I go.
Cool the cake completely before spreading the frosting evenly over the cake. Store the cake in the fridge until you're ready to eat it. Enjoy!
Also, if you're on Instagram, I'd love to connect over there. I'm @veganserenity