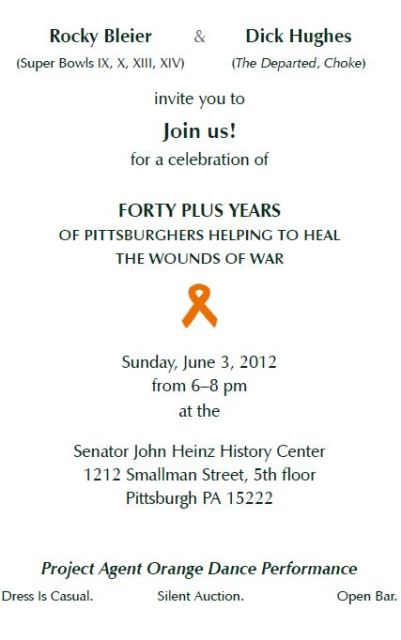 Remember in October when I was in New York and told you about Dick Hughes, the Shoeshine Boys Project and the ongoing problem of Agent Orange in Vietnam? And then I shared with you the news of the website launch and youtube video asking Dow Chemical to Sue Dick Hughes. Well, here is a great related event–a thank you and fundraising gala taking place in Pittsburgh. If you're a Pittsburgh reader, you might consider attending. Here are the details. For more information, see contact below.
Rocky Bleier and Dick Hughes Host Event to Thank Pittsburgh 
Event:  June 3, 2012, 6 pm – 8pm, Heinz History Center
Interviews: Rocky and Dick available on May 14 and 15
For Information:  Karen Clark, 412-316-6549
Rocky Bleier and Dick Hughes went to Vietnam for different reasons. Rocky's career as a Pittsburgh Steeler was interrupted when he was drafted by the U. S. Army and volunteered to go to the conflict in Viet Nam. Dick, a Pittsburgher who had received conscientious objector status, interrupted his acting career to go to Viet Nam as a journalist.
On June 3 the G.I. and C.O. will join together in common cause. They are hosting an event at the Heinz History Center to celebrate Pittsburgh's support of efforts to heal the wounds of war.
Rocky and Dick first met when Rocky helped with fund raising for Dick's Shoeshine Boys Project. Not long after Dick arrived in Viet Nam he started to help homeless children orphaned by the war. Called "the dust of life" by the Vietnamese, the children lived in the streets and shined shoes. Dick spent eight years in Viet Nam, setting up six group homes in Saigon and two in DaNang, caring – at any one time – for approximately three-hundred children.
A year after the war ended Dick moved to New York City and resumed his acting career. But he couldn't ignore the consequences of the war. In 1990 he began a six-year-long campaign that resulted in the release of two former Shoeshine colleagues who had been jailed in Viet Nam as political prisoners.
In 2007 Dick founded Loose Cannons, Inc., to continue his work on the aftermath of the war. Currently the organization's focus is the ongoing damage to Viet Nam of chemical warfare, in particular Agent Orange. www.loosecannons.us
The June 3 event will be a benefit as well as a thank-you to the Pittsburgh community for its long-time support of Dick's work. The evening will include a performance by the dance troupe, Project Agent Orange.