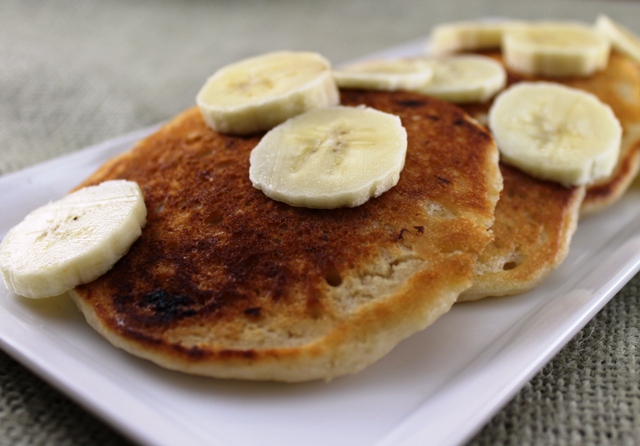 Mornin'! And happy Martin Luther King Jr. Day for those in the US of A. This morning, Eric is home from work and we are waiting on a dryer repair person to arrive (our dryer finally kicked it and we're hoping it will be able to be repaired). Clothes just don't line-dry so well in the Pacific Northwest winters with the perpetual damp and fog we're having these days. Anyway, I decided to make some banana pancakes while we wait. I've been having some stomach issues lately and the only thing I've been up for eating is relatively plain, bready type things. Last weekend, I made the biscuits and gravy. This weekend, banana pancakes. I've loved banana pancakes since I was a kid (my mom used to make them for us pretty regularly–sometimes even for dinner)! 
This recipe can really be endlessly adapted and changed. I'll often use a mix of flours–sometimes all whole wheat, sometimes half buckwheat, etc. You can play around with the flours for healthier/heartier versions. If you don't like bananas, you can easily use 1/2 cup of applesauce in place of the banana. Use your imagination to play around with the recipe if you like.
The Recipe: Banana Pancakes
Makes about 8 4-inch pancakes
1 cup all-purpose flour (or flour of your choice)
2 tsp baking powder
1/2 tsp salt
1 Tbls sugar (or alternative sweetener) — [this is optional and they are quite good without added sweetener since the banana is so sweet already]
1 ripe banana, mashed
3/4 – 1 cup nondairy milk
1/2 tsp vanilla extract
2 Tbls oil (vegetable, safflower, coconut oil all work) or you can omit this and add a little extra rice milk for an oil free option
Mash banana in small mixing bowl. Add wet ingredients and stir well to combine. In a separate bowl, mix dry ingredients. Add wet ingredients to dry and mix just enough to combine (some small lumps are fine). Heat a frying pan or griddle to a low-medium heat. If you're using a nonstick pan, you can probably get away with not using oil to cook the pancakes. For a regular pan, add a splash of oil (vegetable, safflower, or coconut). When the pan is heated, use a measuring cup to scoop the batter onto the pan. You can make any size pancakes you want, obviously. 
The trick to cooking pancakes is getting the heat right. Too high a heat and the pancakes cook too fast on the outside, leaving the inside gooey. Too low a heat and the pancakes don't get a nice crisp and can still be raw in the middle. On a low-medium heat, cook the pancakes on the first side until they bubble and you see little holes appear. Flip the pancakes carefully and cook on the other side until nicely golden brown. 
Serve with your favorite toppings: fresh fruit, maple syrup, jam or preserves, applesauce and cinnamon, granola for a crunchy topping, nuts or seeds, etc.
How do you like to eat pancakes?