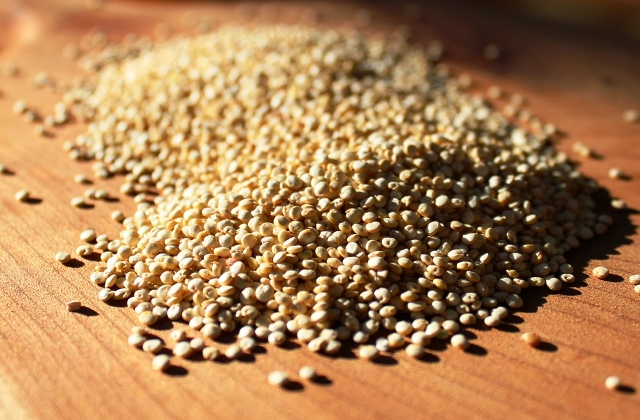 A thank you to my friend Karen who shared this article yesterday from The Guardian, "Can vegans stomach the unpalatable truth about quinoa" by Joanna Blythman. I highly recommend reading the whole article, but in case you don't have time, the gist of it is that our insatiable appetite for quinoa in the Global North has driven producers in the Global South further into poverty. This is a classic problem of export-led development models promoted by international development agencies — namely, that when a staple crop becomes an export crop the prices are often driven up making it so that locals can no longer afford to eat their staple crop. In this case, this has happened with quinoa, the staple crop of Bolivians. There are many other examples of this from all over the world. This article also does a nice job of mentioning some of the other problems with vegan staples, like soy. Blythman notes that soy, along with cattle ranching, is one of the top causes of deforestation in South America.
Serenity in the Storm reader, Holly, made a great point on Facebook about the onus for the exploding popularity of quinoa being placed on vegans in this article. The focus on vegans as the culprit is a bit ridiculous considering what a tiny percentage of the population we are.  Focusing so heavily also does a disservice to the issue itself because a title about veganism will draw fewer readers than a title that simply stated, "the unpalatable truth about quinoa".  
Despite this issue, though, I think this is very important information to know so that we can act in more ethical ways with regards to other communities around the world. And it's issues like this that really highlight the importance of thinking in intersectional ways about how our actions impact not only animals, but humans and the environment as well.
I know it's sacrilege to say in the vegan community, but I'm actually not the biggest fan of quinoa. I know it's supposed to be this super grain/seed that's really great, but I'm just not a huge fan of the texture and flavor. I'd much prefer to eat a nice brown rice, kamut, or other grain. That being said, we do buy a ton of quinoa in bulk because it is our go-to grain for Maizy's and Saoirse's food. I'm thinking we'll have to switch to something else.  
Quinoa is beginning to be grown in the Pacific Northwest, so there may be local sources available. This summer, I discovered a vendor at the Seattle farmers' markets who sells all kinds of locally grown grains. Perhaps one alternative is to buy grains from more local sources. Buying them in larger quantities directly from the producers would be a more economical option and I love the idea of going in on a big bag of grain with friends/neighbors. For people in the Pacific Northwest, here's a nice article from Tilth Producers on the trend to grow more organic grains locally. For folks in the Northeastern United States, here is a resource for locally sourced grains — the Northern Grain Growers Association.
What do you think about this quinoa news?