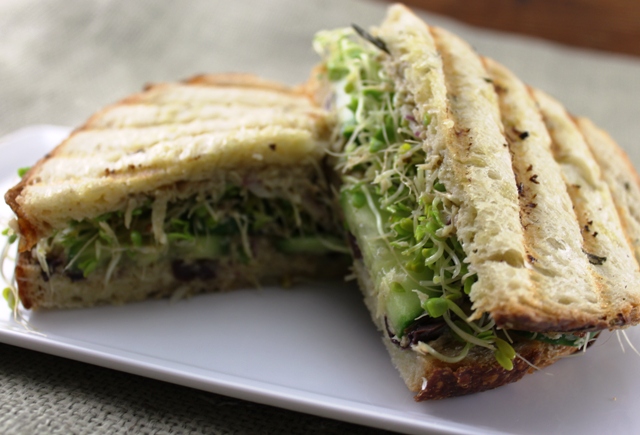 One of my favorite things to eat these days is the artichoke melt sandwich at Chaco Canyon Cafe in Seattle. It's a hot sandwich with artichoke spread, cashew cheese, veganaise and topped with sprouts and cucumber. Lately, I've been pulling out the sandwich press at home and making grilled sandwiches that are a variation on this. You do not have to have a sandwich press to make one. You can either grill it on a frying pan, like you would a grilled cheese, or you can use toast open face versions in the toaster oven. The most important thing, I think, for this sandwich is the artichoke spread and choosing a nice bread. Everything else is icing on the cake, as it were. Sometimes I stick to a really simple sandwich. Other times I grill up some zucchini and mushrooms to throw on the sandwich. Sometimes I add roasted red peppers from a jar… The possibilities are endless and adaptable to your mood and tastebuds. This is the variation I made for today's lunch:
The "Recipe"
Bread slices (I used a rosemary bread from a local bakery that was delish!)
artichoke spread (I buy Napoleon brand artichoke tapenade from the regular grocery)
thinly sliced red onion
small handful of kalamata olives, sliced
cucumber slices
sprouts
fresh ground pepper
Heat the sandwich press or your frying pan (you can use a little oil or margarine on the bread, but it is not necessary — I usually skip it). Spread a *generous* helping of artichoke spread on each piece of bread. Layer some olives and onion on there (i.e. all the ingredients that you want to be heated and grilled in the sandwich. Grill the sandwich until it's nicely toasted on the outside and warm and lovely on the inside. Remove from heat, add some cucumber and sprouts, slice and enjoy! A little salad on the side is nice, or a pickle or two. But, of course, all you really need is the sandwich itself!
What ingredients do you like on a hot, grilled sandwich?