First, thank you so much to all who voted for Pigs Peace. They will be awarded $10,000 thanks to all of your votes. Woohoo!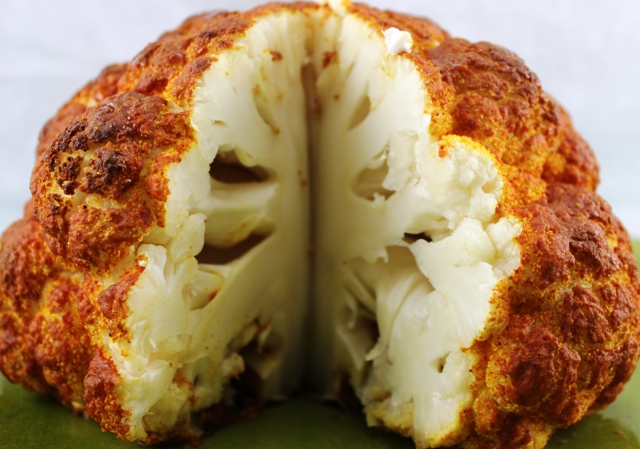 Secondly, I woke up yesterday morning and this recipe popped up in my Google Reader as I was eating breakfast—Whole Roasted Tandoori Cauliflower with Mint Chutney and I was like, wait… WHAT?! I immediately thought of one of Eric's and my favorite dishes, the roasted cauliflower I posted on the blog back in February. Could this be like that, but with tandoori spice? I dashed out to the grocery store yesterday to get some missing ingredients and made this for dinner last night. It was an incredibly easy thing to make. The edits I made to the recipe were as follows:
I used a premade tandoori masala spice mix that I got at Market Spice a while back.
I usedunsweetenedplain soy yogurt instead of cow's milk yogurt
I used 3/4 tsp powdered garlic instead of fresh (we were out and I forgot to get it at the store)
I used 1 Tbls ginger juice instead of fresh ginger
I made the mint chutney to go along with it, but totally forgot to pull it out of the fridge for the meal. Whoops. Maybe it would have been good with the cauliflower, but honestly I was underwhelmed tasting it on its own.
The flavor of the cauliflower was wonderful, though the cauliflower itself was undercooked. I cooked it for over an hour (over the longer recommendation in the orginal recipe) and the middle ended up still crunchy. It was not the caramelized, rich cauliflower in the roasted cauliflower recipe, but  it was delicious nonetheless and I would highly recommend it. Next time I make it, I'll just remember to cook it for a much longer time.
Have you ever roasted a whole cauliflower? What was your experience?