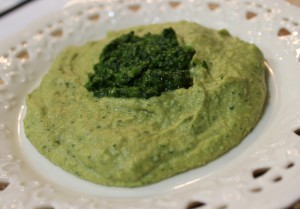 This past fall, when my friend Tish and I were crafting together each week, we would periodically stop at Trader Joe's for snacks before heading to our house to get started crafting. Tish turned me on to the most delicious hummus from Trader Joe's–it's their hummus with cilantro and jalapenos. Eric and I rarely go to Trader Joe's since it's a bit out of the way and we'd have to make a special trip over there, but I've been thinking about that hummus for a couple of months now. Finally, yesterday, Eric and I made it to the grocery store (a long-overdue trip) and I got the stuff to recreate the cilantro-jalapeno hummus. I looked a few recipes online, and ended up drawing inspiration from this recipe at Peas and Thank You and this recipe at Eats Well with Others. We made it last night and it was so good and SO spicy!
The Recipe
For the hummus:
1 1/2 cups chickpeas, peeled if you have the patience for it
1 Tbls tahini
juice of 1 lemon
1/2 cup roasted garlic cloves
2 Tbls olive oil
1/4-1/2 cup water
salt and pepper
For the topping:
1 1/2 cup fresh cilantro
1 jalapeno, deseeded and demembraned
1 tsp powdered coriander
1/2 tsp cumin
1 tsp lemon juice
1 T olive oil
salt to taste
FOR THE HUMMUS: Put all hummus ingredients into the food processor. Begin with just 1/4 cup of water and add more as needed. Blend all hummus ingredients until very smooth. Taste. Adjust seasonings as needed.
FOR THE TOPPING: You may want to taste the jalapeno before hand to see how spicy it is and adjust the amount you use accordingly. I did not taste it ahead of time and ended up with some hot-as-hell hummus. Process all topping ingredients in the food processor until pulverized (or very finely minced). Taste and adjust seasonings accordingly.
ASSEMBLY: Here's where you have a choice. You can leave the hummus as it is and put it on a plate with some of the topping on top. That way, you can get bites that are spicy and some that are not. OR, you can mix part of the topping into the hummus and eat it that way and top it with some additional topping (this is what I did). Serve with pita, crackers, cut up vegetables or as a spread in sandwiches, etc.