I have to confess that Eric and I watched the Seahawks/49ers football game yesterday. This is so wholly out of character for us, and we kept commenting on how we should turn on a movie, but we were transfixed and just kept on watching. At one point, I found myself jumping up off the couch, saying increasingly loudly, "oh man, he's running, he's running, there he goes! He's going! HOLY SHIT AND IT'S A TOUCHDOWN!!!"…It was pretty exciting.
Admittedly, we took advantage of the first hour of the game when everyone was at home watching to go to Costco. Best time ever to go there, if you must ever go [Costco is one of those errands I dread, along with the bank and the post office]. During the game, it was practically empty. Eric always likes to cruise the sample carts to see if they have any tasty snacks. I've gotten so irritated that nothing is ever vegan that I've just stopped checking. Yesterday, however, was amazing. They had daiya grilled cheese sandwiches (can you believe that?) and crackers and hummus and some other stuff that I've already forgotten about.
Anyway, something about football makes me think of jalapeño poppers and I started wondering about a vegan version. So I spent some time in the kitchen today and made some up. And you know what? They are pretty darn good. They use the same method of panko breading and oven-baking that I've grown to love (see onion rings and crunchy sweet potato fries). These are definitely the most high-maintenance of my three panko-breaded friends, but they are nice for a special treat.
The Recipe
Makes 12 large poppers
12 large fresh jalapeño peppers (or more small ones)
FOR THE FILLING:
1 8-oz container of plain vegan cream cheese (I used Daiya)
1 CUP shredded vegan cheese (I used Daiya's mozzarella shreds, but any kind would work)
1/2 CUP vegan bacon bits (optional)
1/4 TSP smoked paprika
1/2 TSP garlic powder
FOR THE BREADING:
1/2 CUP soy creamer or other nondairy milk
1/2 TBLS apple cider vinegar (or white vinegar)
1/2 CUP flour
1 TBLS corn starch
1/2 TSP smoked paprika
1/2 TSP salt
1 1/2 CUPS panko bread crumbs
1 1/2 TBLS vegetable oil
Directions: Prep the jalapeños first, removing the seeds and membrane. This seed and membrane removal is what makes the peppers consumable in large quantities. Otherwise, they would be rip-your-face-off hot. The best way to do this is WITH GLOVES (I didn't use gloves and my hands are still burning and puffy as I write this hours later). Cut the top off the jalapeño so you can see the seeds inside. Slice the jalapeño lengthwise on one side (not completely in half). See photo of stuffed peppers below to see what I'm talking about. With your fingers, pull out the seeds and membrane, getting them as clean as you can. Rinse the peppers off and leave them to drain in a colander while you prep the filling.
On to the filling. Mix the filling ingredients in a bowl (either by hand or with an electric mixture). You're going for a cream cheese-like consistency. Now it's time to stuff the peppers with the cheese mixture. Shake any excess water off the peppers before stuffing them (you don't have to go crazy here; a little moisture helps the breading stick to the peppers). With a butter knife, spread the mixture into the peppers. Here's what you're going for:
Preheat oven to 450° F. Line a baking sheet with parchment. In a small bowl, mix flour, paprika and 1/4 TSP salt. In another bowl, mix soy creamer and vinegar and stir. Add the cornstarch to the milk mixture and whisk to combine. Whisk in half the flour mixture. In a third bowl, add the panko, the remaining 1/4 TSP salt and the oil and toss with a fork or your fingers to combine. You'll have three bowls to dip the stuffed peppers in. The first is the flour mixture. The second is the milk mixture. And the third is the panko breadcrumbs. First, dunk the pepper in the flour, then the milk mixture, letting the excess liquid drip off before coating the pepper in the panko breadcrumbs. Lay the prepared peppers on the parchment-lined baking sheets. Bake for 10-12 minutes and then gently flip the peppers over. Bake for another 10-12 minutes, until golden brown. They might explode the cheese filling a little. That's okay! Let cool for a couple of minutes and serve while still hot.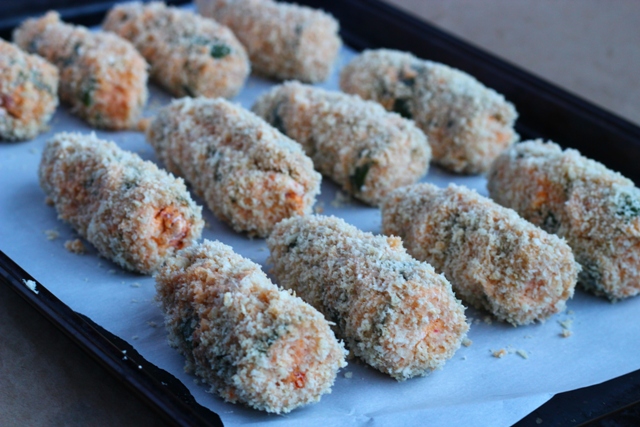 NOTE: You can freeze these. Simply lay them on the parchment lined baking sheet as described above. Place the whole baking sheet in the freezer. When frozen, remove peppers and store them in a zip-lock bag in the freezer.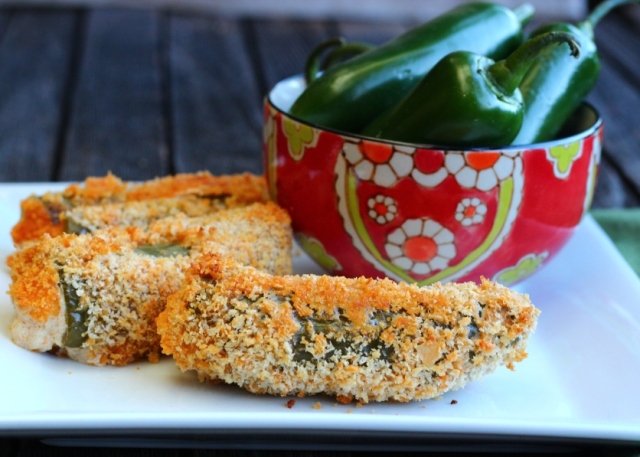 Connect with Serenity in the Storm on Facebook, Instagram, Pinterest and/or Twitter. To check out and/or purchase Serenity in the Storm's new e-book, Gently Raw, CLICK HERE.