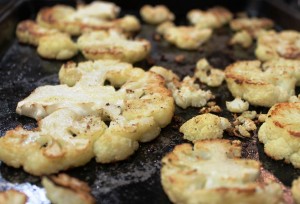 This is the simplest recipe and it is amazing how delicious it is. It is almost buttery, full of good cauliflower flavor, and an excellent side dish to eat with just about anything. The flavor is neutral enough that it pairs well with just about any cuisine. But don't let that fool you; it definitely has a 'wow' factor… such as, "Wow! This is just cauliflower with olive oil, salt and pepper? Wow!" I think cauliflower tends to get a bad rap, or maybe no rap at all. I've tended to think of it as a vegetable that I could take or leave. But this preparation works magic on the cauliflower, and since trying it, has given me a whole new appreciation for this vegetable. In fact, a few years ago, we grew cauliflowers and had a bumper crop, and I started eating it raw, roasted, steamed, stewed in curry, etc. Yum! Don't forget to eat the little crunchy bits on the pan that get extra roasted–they're the best part.
The Recipe (if it can be called that)
Serves 2-4
1 large head of cauliflower
olive oil
salt and pepper
Preheat oven to 400 F. Remove the leaves from the cauliflower and wash the head of cauliflower thoroughly. Slice the head of cauliflower like you would a loaf of bread, in about 1/2 inch slices. You can leave the big center pieces whole, or you can cut those down into smaller pieces–your choice (I usually leave them whole). Brush a roasting pan or savory cookie sheet with a little olive oil. Lay out the cauliflower slices, brush them with a little olive oil, and sprinkle lightly with salt and pepper. Make sure to toss all the little extra bits of cauliflower on the pan, too. Roast in oven for 15 minutes. Flip all cauliflower slices and roast for 15 minutes more. Remove from oven and eat immediately. Make sure to pick at the little extra roasted bits–Heaven!
Variations: my mom likes to add a sprinkle of ground nutmeg to her cauliflower, or it would also be good with a sprinkle of red chili powder for a little heat.
How do you like to prepare cauliflower?