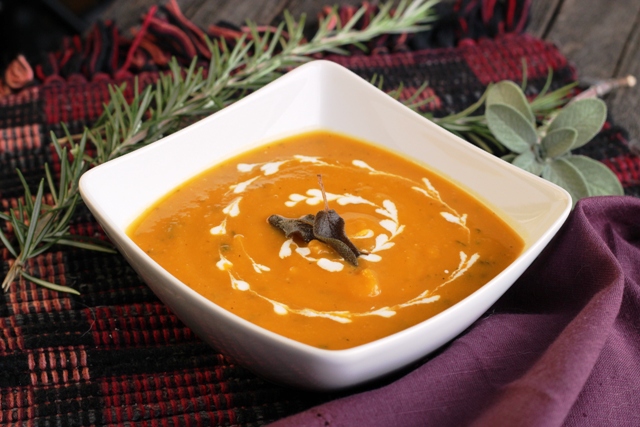 Apparently Thanksgiving is hurdling towards us quite quickly! I, for one, woke up this morning shocked that we're already practically to mid-November. I'll post a Thanksgiving recipe round-up soon to help with some ideas for the big day, but I thought this might be a nice main dish option. Soup is generally a non-traditional main dish offering at Thanksgiving dinner, but the flavors in this soup are right in line with the most traditional of meals. Rosemary, sage, butternut squash — this soup hits all those comfort food notes and would pair awesomely with stuffing, mashed potatoes, gravy, etc. It would be great with rolls or cornbread and big green kale salad. It's also a super easy weeknight meal. It comes together in about 40 minutes and stores really well in the freezer or fridge. Make it on the weekend and eat it during the week or, if you're going to try it for the holidays, you can make this the day or two before and this will be one less thing you have to think about on the day of. Note: this could easily be made with pumpkin, too.
I'd love to hear your ideas for vegan Thanksgiving main dishes if you have some!
The Recipe
1 3-pound butternut squash
1 large onion, diced
3 cloves garlic, minced
3 TBLS coconut oil
1 TBLS fresh rosemary, minced
2 TBLS fresh sage, minced
3 CUPS vegetable stock
fresh ground black pepper to taste
(optional) fresh sage leaves and vegan sour cream for garnish
For the soup: Preheat oven to 400 F. Peel butternut squash with vegetable peeler, cut the top and bottom off and cut the squash in half. Scoop out seeds and stringy insides. Dice the squash in 1-inch cubes. In a small bowl, melt 2 TBLS coconut oil and mix in half the rosemary and half the sage. Spread the squash cubes evenly on a roasting pan and drizzle the oil/herb mixture over the squash. Toss a bit to coat. Roast the squash in the oven for 15 minutes, flip the squash over, and roast for another 15 minutes. While the squash is in the oven, heat 1 TBLS coconut oil in a medium-large pot on the stove. Saute the onions and garlic until slightly soft. Add the the remaining fresh herbs and stir to combine. Saute for another 3-5 minutes to let the herb flavors bloom. Add the vegetable stock and simmer while the squash is cooking in the oven. When the squash is cooked, add the squash to the pot and blend with an immersion blender to puree. [Alternatively, you can transfer the mixture to a food processor or high-speed blender to puree the soup.] Garnish with fried sage leaves and a little vegan sour cream, if you like.
Sage leaf garnish: If you want to add a garnish of fried sage leaves, pour a generous amount of olive oil into a small pot or frying pan. Heat on medium-high heat. Drop sage leaves in and fry for only a few seconds. Pull out and lay on a paper towel. Add to the top of soup.
Don't forget to sign up for the Vegan Delish recipe app giveaway! Deadline is Friday November 15. 
Find Serenity in the Storm on Facebook, Instagram, Pinterest and/or Twitter.