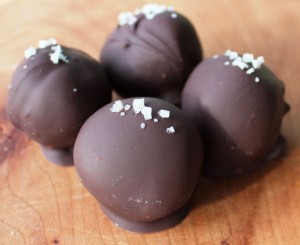 Do I have a treat for you today! Vegan salted kahlua truffles… I love kahlua, but oftentimes think it's too sweet. I think the salt cuts the sweetness of the kahlua and compliments the chocolate nicely. If you've ever seen the film Chocolat with Juliette Binoche, Johnny Depp and Judi Dench, you'll know I would not kid about saying I fantasize about having a small chocolaterie. A vegan chocolate shop nonetheless–with the most decadent chocolates that awaken the senses and ignite new passions. Rich, thick spicy hot chocolate that would make your soul sing. Hand-crushing cacao and processing it into chocolates unlike any you've ever tasted. Bringing love and passion back into someone's marriage after twenty years with one bite. Calling up memories from childhood that we didn't know we had… These are the things I dream about in running a chocolate shop.
Watch the movie if you haven't already. It will make you want to make this recipe and perhaps run off to the hills of France to a small village and wait for Johnny Depp to show up at your doorstep.
In reality, the process was a little less romantic and fairytale-esque. I bought chocolate in a bag at the grocery store, I made it in a modern kitchen that looked nothing like the beautiful rustic shop in the film, and they're certainly not as pretty as the chocolates in the film. But I think they taste pretty damn good and there's always room for learning more technique. Tish and I have Groupons we need to use for a chocolate dipping class, which I hope will teach us more about making smooth, beautiful chocolates that also taste awesome.  Tish and I originally came up with the recipe for these when we were making crafts/treats for the holidays. Stay tuned for another truffle recipe…chile cardamom truffles.
Salted Kahlua Truffles: The Recipe
Makes 2 dozen truffles
18 oz. vegan bittersweet chocolate
1/2 cup full fat coconut milk (like canned coconut milk)
1/4 cup Kahlua
~1 Tbls extra coarse sea salt
A Note About Chocolate: There are a number of vegan bittersweet or semi sweet options. I tend to use Enjoy Life chocolate chips or chunks, or Trader Joe's has a giant bittersweet chocolate bar (about 18 oz), which can be chopped into small pieces and used. Alternatively, I know Whole Foods store brand has a vegan chocolate chip that would work well.
Making truffles might seem daunting, but once you've tried it once, it's not too bad. It just takes a little time, patience, and willingness to experiment. You start with making the filling.
The Filling: Place 10 oz of the chocolate chips or chopped chocolate in a mixing bowl. In a small saucepan heat the 1/2 cup of coconut milk until simmering, stirring occasionally. Pour the hot coconut milk into the mixing bowl on top of the chocolate and immediately start stirring with a spatula to melt the chocolate. Be patient and keep stirring gently until all of the chocolate is melted. Stir in the kahlua at this point until it is well-combined with the chocolate. Pour into dish that can be refrigerated (I used a Pyrex bread pan). Chill in the fridge for 30 minutes: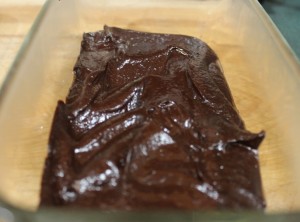 Using a mellon baller, or a good old fashioned spoon, scoop out balls of the hardened chocolate. I used a regular spoon and ended up rolling the chocolate into more uniform balls with my hands. See picture: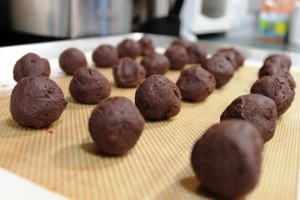 The Coating: You should have 8 oz of the chocolate chips/chopped chocolate remaining. Place approximately 2/3 of this chocolate in a double boiler (I use a metal or glass mixing bowl set into a simmering pot of water because I don't have a double-boiler). Over a low simmer on low-medium heat, stir the chocolate frequently. This is the point where things can go wonky, so you want to be careful not to heat the chocolate too fast, or at too high a temperature, and you DO NOT want to get any water in the chocolate–this will cause the chocolate to seize and there's not much you can do to recover from a chocolate seizure. When the chocolate is mostly melted, remove the bowl from heat and stir in the remaining 1/3 of the chocolate until completely melted.
The Dipping: For dipping the chocolates, you can use the following in order of messiness from most to least: (1) your fingers, (2) a fork, (3) chocolate dipping tools (if you're thinking of making a habit of chocolate making, I would recommend these–at just under $10, this set has been indespensible in our kitchen. Set one of the filling balls on the fork, dip it into the melted chocolate until fully coated. Tap the fork on the edge of the bowl to let excess chocolate drip off of the truffle. Set the truffles gently, one by one, on a nonstick surface–parchment paper on a cookie sheet or cutting board works well. Hint: Use another fork to gently nudge the truffle onto the drying surface. Before the chocolate has a chance to cool, sprinkle a few chunks of the salt on top.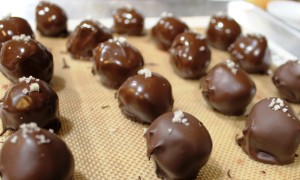 Let cool at room temperature and I like to store them in the airtight containers in the fridge, but they should be fine out on the counter for quite a while, too.
There you go! Chocolate kahlua truffles with less than five ingredients and no fancy equipment required. Enjoy!