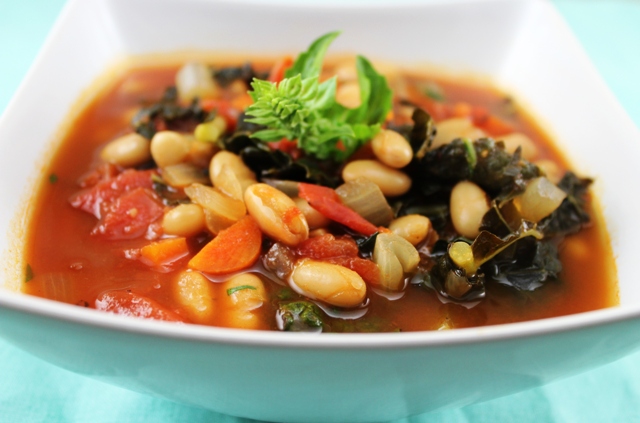 In the middle of summer, I'm always looking for ways to use the abundance of basil we grow in our garden. Summer salads with basil are great, as are pestos, but it's been quite a cool summer overall. My sister arrived on Thursday from Baltimore, where it's been hovering in the high 90's and low 100's. So, when she showed up at the SeaTac airport on Thursday morning in shorts and a hoodie, she found herself quite chilly in the 60 degrees and cloudy weather. So, I thought some nice soup would warm her up and took the opportunity to make this soup with basil from the garden with some of the biggest leaves I've ever seen. We're talking leaves 5 inches across. I also used some kale from the farmers market. This would be superb with fresh tomatoes, particularly since they're in season, but we were going for the quick fix and so used canned instead.
The Recipe:
28 ounces of diced tomatoes (canned or fresh)
3 carrots, diced
2 large or 3 medium sized stalks celery
1 large onion, chopped
4 cloves garlic, minced
3 cups chopped kale
1 cup chopped fresh basil (or to taste)
28 ounces (2 small cans or one large can or dried and cooked) great northern beans
4 cups vegetable broth or water
2 Tbl tomato paste
pinch crushed red pepper (to taste)
salt and pepper to taste
Chop onions, carrots, celery, and garlic and saute in a large pot with a little water or olive oil until soft (about 5 minutes). Add tomatoes, water or vegetable broth, tomato paste, red pepper, salt and pepper. Add the beans. Simmer for 30 minutes. Chop kale and add. Cook for 5 minutes. Stir in chopped basil at the end. Serve and enjoy! Serves 4-5.
What are your favorite recipes using fresh basil?