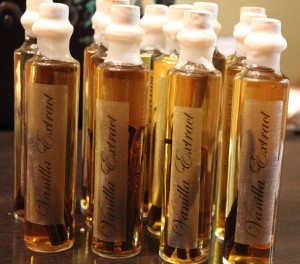 One of our crafting projects for holiday gifts (quick! family and friends cover your eyes!) was homemade vanilla extract. The first thing we did was locate the materials we needed for the best price possible. We found beautiful 4 oz corked bottles at Specialty Bottle for $1.89 each. We bought a reasonably priced, but good quality vodka (I can't remember the name, unfortunately). And we found the best price for whole vanilla beans at Costco- 10 vanilla beans for $12 (just a little over a dollar each). We used soy wax to seal the corks to help seal the bottles for mailing purposes, which in retrospect was a little delicate, but worked nonetheless. We printed up labels on clear labels, which has a nice effect on the bottle. The coolest part about making your own vanilla extract is that when you have used up 3/4 of the bottle, you can refill it with vodka and let it infuse again. A great gift for bakers in your life, or just a nice thing to have in your own kitchen for baking projects that adds a little something special!
The Recipe
For 8 oz of extract
1 cup of vodka
3 whole vanilla beans
glass jar for storage
wax for sealing cork (optional)
label (optional)
Prepare the vanilla beans by carefully scoring down the length of the bean with a sharp knife. With your fingers, peel the bean open slightly. We needed to cut our beans in half to fit them into the short bottles we got. If the beans fit into your container whole, great. If not, cut them to size. Place beans in container and cover with the vodka. Seal the container and let sit for 2 months, until the liquid is dark and tastes amazing!
If sealing a cork bottle with wax, melt wax in a small pot. Make sure the cork is tightly situated in the bottle. Turn over carefully and dip the top of the bottle/cork in the wax. You may need to do this a few times to get a thick coating of wax covering the cork and top of the bottle.
 Voila! Vanilla extract!