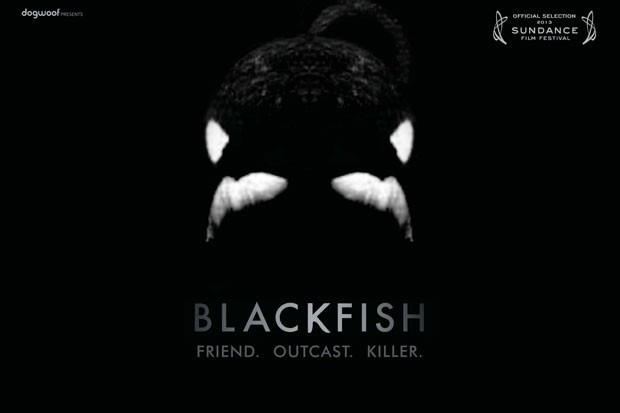 I spent quite a bit of the holiday break (when I wasn't just working straight through it) watching documentaries. I like watching documentaries for fun because I feel like it's a chance to relax in front of the television, but it's still productive because I'm learning something new. I thought I'd share with you some of the documentaries we watched.
Blackfish is about orcas in captivity (specifically those in aquatic parks like SeaWorld). The film is really well done and, in addition to making me think about the depressing plight of orcas in captivity, it also made me think a lot about the exploitative nature of human-animal relations more broadly. Orcas are more highly evolved emotionally than humans, a point which is driven home in the film through the beauty of pod communities, and the devastation felt by the orcas when mother and baby are torn away from each other. This, juxtaposed with humans who find it entertaining to watch a whale trapped in a bathtub slap the water with his fin, is both heartbreaking and infuriating.
We Steal Secrets: The Story of WikiLeaks
We Steal Secrets follows Julian Assange and Bradley (now Chelsea) Manning through the largest leak of classified U.S. government documents in history. It tells the story of how the leak occurred, the escalation in Assange's and Manning's lives leading up to, and following, the leak, and it explores the politics of secrecy and knowledge. This is a fascinating film, whether you have followed the story of WikiLeaks or not.
On a similar note, We are Legion follows the rise of the hacktivist group, Anonymous, and explores the politics of freedom of information through online channels. One of the interesting parts of this film is the evolution of the group from being hackers playing internet pranks, to becoming deeply involved in political activism.
Eco-Pirate: The Story of Paul Watson
Eco-Pirate follows Paul Watson's life story from his involvement in forming Greenpeace to his departure from the organization and his creation of the Sea Shepherd Conservation Society, an organization that uses direct action tactics to defend the lives of dolphins, whales and other marine mammals. A theme in this film which was also present in We Steal Secrets is the notion that society desperately needs intensely radical voices — not necessarily because we will ever end up living in the future of radical ideals, but in order to have any hope at all of moving society in the direction of a more just future for all.
This film was chilling in its depiction of the water crisis – globally and in the U.S. What I took away from this film was the knowledge that we *must* be thinking (and acting!) in an immediate and serious way to have any chance of surviving the global water crisis. In the U.S., many of us are insulated from thinking about these issues. Many of us use as much water as we want without thinking; we turn on the faucet and water comes out. I'm planning to watch a number of other documentaries on water. If you have any suggestions, let me know!
I don't know if I would necessarily recommend this documentary, but it sure was interesting — a window into a (to me) bizarre world. Somm follows four men who are studying to take their Master Sommelier exam (a sommelier is a wine expert who specializes in food/wine pairings). The exam is one of the most difficult exams in the world to pass, and the film follows the intensity of studying for, and taking, this exam. A window into a world that was completely foreign to me.
Have you watched any documentaries lately that you would recommend? I'd love suggestions for others to watch!
Connect with Serenity in the Storm on Facebook, Instagram, Pinterest and/or Twitter. To check out and/or purchase Serenity in the Storm's new e-book, Gently Raw, CLICK HERE.