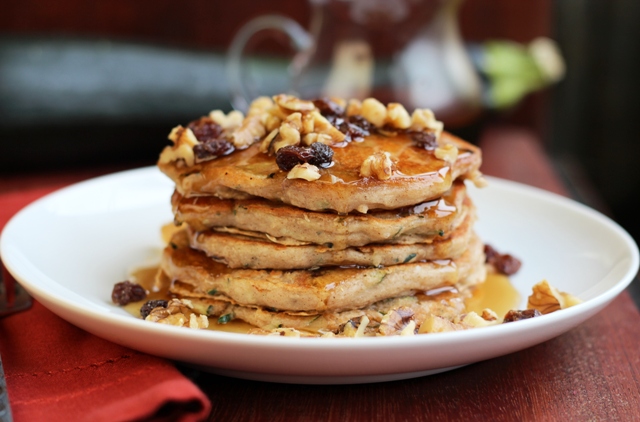 Just in time for the weekend, here's a recipe for a great Saturday morning breakfast or brunch. Not to be mistaken for the savory zucchini pancakes from last week, these are breakfast pancakes that taste just like zucchini bread.  I've been daydreaming about these for a while now, imagining what they might taste like and they turned out just like I had envisioned — moist, fluffy, with that cinnamon-zucchini flavor. The chewy raisins and crunchy walnuts add some good texture.
The Recipe
Makes about 8 4-inch pancakes
1 cup all-purpose flour (or a mix of whole wheat and white flour)
1 cup finely grated zucchini
1 cup nondairy milk
1/2 cup applesauce
1/3 cup raisins
1/3 cup chopped walnuts
1 tsp vanilla
2 tsp baking powder
3/4 tsp cinnamon
Mix the dry ingredients in one bowl. Squeeze the excess moisture from the zucchini and toss the zucchini, raisins and walnuts with the dry ingredients. In a separate bowl, mix the wet ingredients. Mix dry ingredients with wet ingredients and stir gently until just combined (some small lumps are fine). Heat a frying pan or griddle to a low-medium heat. If you're using a nonstick pan, you can probably get away with not using oil to cook the pancakes. For a regular pan, add a splash of oil (vegetable, safflower, or coconut). When the pan is heated, use a measuring cup to scoop the batter onto the pan. You can make any size pancakes you want. The trick to cooking pancakes is getting the heat right. Too high a heat and the pancakes cook too fast on the outside, leaving the inside gooey. Too low a heat and the pancakes don't get a nice crisp and can still be raw in the middle. On a low-medium heat, cook the pancakes on the first side until they bubble and you see little holes appear. Flip the pancakes carefully and cook on the other side until nicely golden brown. Serve with maple syrup, raisins and walnuts. Enjoy!
Find Serenity in the Storm on Facebook, Instagram, Pinterest and/or Twitter.