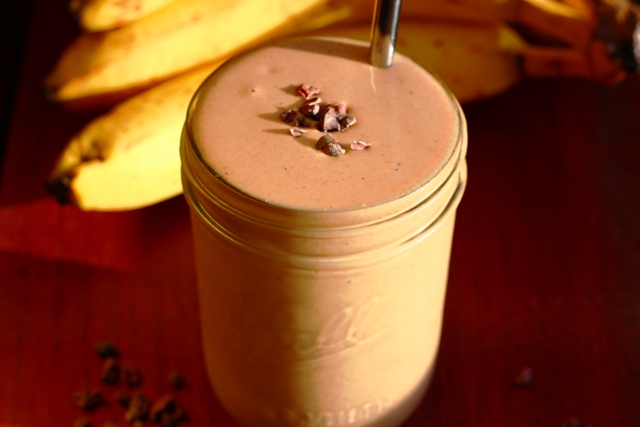 Chaco Canyon Café has been our go-to spot for eating out this summer. They've got wonderful raw options and some really great cooked food and sandwiches. They also have an extensive juice and smoothie bar menu. One of our favorite smoothies at Chaco is their 'Chaco Maca' smoothie. We like them so much, we've been recreating them at home. I've edited out a few ingredients that I think are extraneous (like salt and agave). The flavors of raw cacao, banana, maca and hemp milk are delicious – like a chocolate banana milk shake. Maca is a root native to the Andean region that helps to regulate the endocrine system, relieve stress, and boost energy. Cacao contains antioxidants, vitamins and minerals and adds that wonderful chocolate flavor.
The Recipe
Makes one 16-oz smoothie
3/4 cup water
2 Tbls hemp seeds
1/2 tsp vanilla extract
2 bananas, cut in chunks and frozen
1 heaping tsp maca powder
1 heaping tsp raw cacao (or unsweetened cocoa)
Combine water, hemp seeds and vanilla in the blender. Blend until frothy and cream (about 2 minutes). Add the remaining ingredients and blend. Pour into a nice tall glass and enjoy immediately.