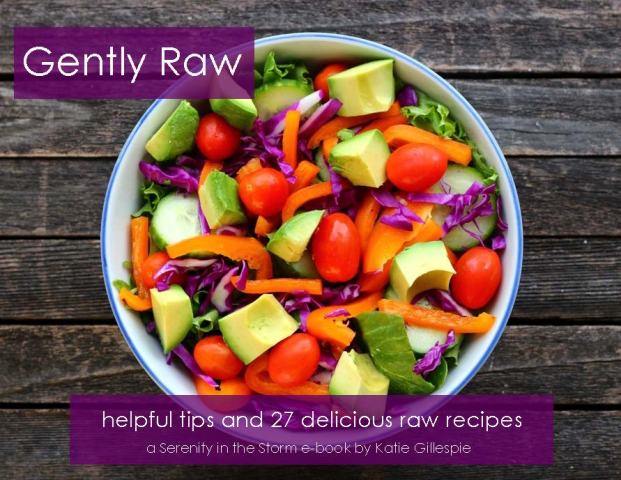 My dear Serenity in the Storm readers (old and new!), I am so excited to share with you the fruits (raw foods pun intended?!) of my labor over the last several months. I have been hard at work writing Serenity in the Storm's first e-book — Gently Raw — and it's finally here and available for you to purchase. If you'd like to check it out further, you can go to the Gently Raw e-book page. You can view the table of contents and sample pages there and purchase the book, or you can simple scroll to the bottom of page to buy the book now.
You don't have to be raw, or interested in going raw, to use and enjoy this book. The book is useful for incorporating more WHOLE, RAW, VEGAN, and GLUTEN- and GRAIN-FREE foods into your life in any level and capacity. When you purchase Gently Raw, you will receive a PDF file, viewable on your computer, tablet or smartphone for easy and transportable use. The book features:
78 pages of content
27 delicious recipes (some old favorites, but mostly new)
full-color photographs of every recipe
my journey to raw & how eating mostly raw has changed my life
tips on raw pantry basics and kitchen tool recommendations
thoughts on how to incorporate more raw foods into your diet, the cost of raw food, how to help others, and suggestions for seasonal eating
a moderate approach to raw foods that can fit everyone's lifestyle
When I set out to write the book, I wanted to write a book that was mostly raw. Some of the raw foodists I know are very strict and rigid in their diets (which is great for those who respond well to that, but that's not me), and I wanted to promote a more flexible, easy going approach to raw foods. One that could be taken up by anyone in any degree (whether that's incorporating a green juice into your current daily routine, going fully raw, or somewhere in between). The recipes in this book are all easy to make. They are all made with predominantly raw ingredients. Non-raw ingredients in the book include things like maple syrup or certain spices, but all of the major ingredients are raw and packed with nutrition. Some require a little advance planning (soaking nuts, for instance), but most can be made and enjoyed in no time. As I was transitioning to raw foods, I was frustrated by how many raw recipes required a dehydrator. To encourage ease and accessibility, none of these recipes uses a dehydrator. They are all easily made with a knife, food processor, and/or blender.
Thank you, as ever, for your support and community and I hope this book will inspire you in health and healing! I would be so grateful if you would spread the word about Gently Raw on your social media networks and with your family and friends, if you're so inclined.
Connect with Serenity in the Storm on Facebook, Instagram, Pinterest and/or Twitter.