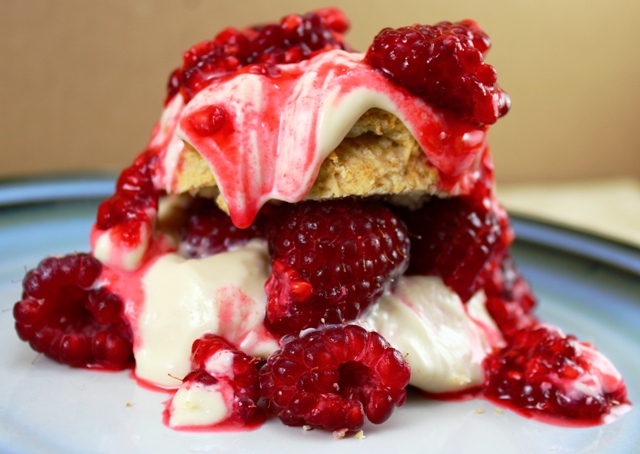 I had some disappointing news on Monday. I was rejected from another grant for research funding. I started working on this one more than 15 months ago and had gone through one rejection and rewrite already, so this came as a big disappointment at the end of a very long and exhausting process of waiting, revising, waiting, waiting and more waiting. I woke up on Tuesday not at all enthusiastic about thinking about my work, so I spent the entire day cooking—something that I find fun, relaxing, and a wonderful distraction. I've mentioned that I've been trying to eat more raw foods and cut down on the sugary foods, but yesterday I just wanted some cooked and sweet comfort foods.
When I was a kid, my mom used to make strawberry shortcake with homemade biscuits and homemade whipped cream. We would pile them high with layers of strawberry and whipped cream and then dive in. Even now, I think of this as some serious summer comfort food dessert.
Yesterday, I went to the vegetable stand and they had half-flats of local raspberries for $6. I bought one, knowing I had to do something that would use up a lot of them at once since they don't tend to keep for long. My dear friend Karen came over for brunch yesterday and I made cornmeal waffles with a cinnamon-ginger raspberry-blueberry sauce and fresh berries on top. That used up some of the berries. Last night, Eric's mom and her husband came for dinner and I decided to try out a raspberry shortcake—a spin on a traditional strawberry shortcake, but vegan and, of course, with raspberries. I modified my blackberry scone recipe from last summer—cut it in half and omitted the blackberries. Then I made a batch of the white chocolate mousse from the raspberry white chocolate layer cake. I made a raw raspberry sauce and used additional fresh raspberries to assemble the desserts. Everyone agreed that they were pretty divine and definitely blog worthy.
The components for this dessert can be made well ahead of time and then assembled just before serving.
The Recipe
Makes 8
FOR THE SCONES:
2 cups unbleached flour (you can use part whole wheat, if you prefer)
1 1/4 Tbl baking powder
3 Tbl sugar (or other sweetener)
1/4 tsp cinnamon
pinch salt
1 1/2 tsp apple cider vinegar
1/6 cup oil
2/3 cup non-dairy milk (or more if needed)
1 tsp vanilla
Preheat oven to 350 F. Mix the dry ingredients in a large mixing bowl. In a separate bowl, mix the wet ingredients together. Make an indent in the dry ingredients and add in the wet ingredients.Using a fork, gently fold wet ingredients into dry. This dough should be treated like biscuit dough. In other words, handle it as little as possible. Sometimes I use my hands to fold the dough a bit at the end. Flour a clean surface, or use a piece of parchment paper to cover a clean surface. Transfer dough to surface and press gently with your hands to flatten the dough out to 3/4 inch thick.Using a biscuit cutter, a knife, or a cookie cutter, cut out circles the scones. Place them at least an inch apart on a non-stick pan, or on a greased cookie sheet. Bake for 18-20 minutes. 
FOR THE MOUSSE:
one 12 oz vegan white chocolate chips
1 package of aseptic silken tofu, extra firm (the kind that doesn't need to be refrigerated)
2 tsp maple syrup or agave
1 tsp vanilla extract
While the scones are in the oven, make the mousse. In a food processor, blend the tofu, sweetener and vanilla until perfectly smooth. In a double boiler (or bowl set over a pot of water), melt the white chocolate chips. When the chocolate is melted, pour into the food processor and blend with the tofu until perfectly smooth and well combined. Refrigerate in a covered bowl for 2 hours or more (this can even be made the day before).
FOR RASPBERRY SAUCE:
2 cups of fresh raspberries + 2 cups raspberries for assembly
1 1/2 tsp lemon juice
1 tsp maple syrup
In a bowl, mash 2 cups of the raspberries with the lemon juice and maple syrup. This will turn saucy quickly with some mashing and stirring. Taste and adjust, adding more sweetener or lemon juice if you desire (keeping in mind the mousse is quite sweet). Reserve 2 cups (or more) whole raspberries for assembly.
ASSEMBLY:
Just before you are going to serve dessert, slice the scones in half (like a bagel). Place the bottom half on a plate, spoon some cold mousse on the scone. Add some whole raspberries. Put the other half of the scone on top and add another dollop of mousse. Spoon some of the raspberry sauce on top and serve. Enjoy!
Do you have a favorite raspberry dessert? How about blueberries (I have two pounds in the fridge and have to figure out something to do with them!)?