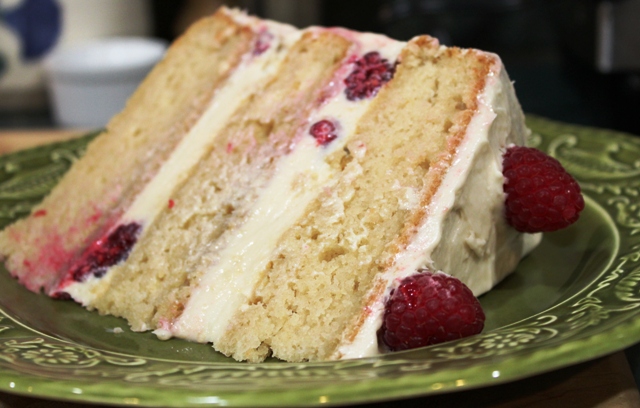 When I was a teenager growing up in Pittsburgh, a small catering kitchen and cooking school opened around the corner from our house, called Food Glorious Food. Brad and Tom are the owners and they have grown the business into a successful neighborhood staple, offering a bakery several times a week. Lines are out the door to get their amazing baked goods. Sadly, they do not sell anything vegan. 
Working for Brad and Tom was my first job. Tom is an amazing pastry chef and his signature cake is called the White Lily Cake. It's a white layer cake with white chocolate mousse filling, embedded with fresh raspberries and covered with a whipped cream icing. While working at Food Glorious Food, I never did get the recipe for the White Lily Cake (it's a secret), but I've dreamt about that cake for years.
Last week, I decided to go for it and try to make up a vegan version of the cake. And you know what? I think this one comes pretty damn close. The cake is a bit more dense, I used a cream cheese frosting instead of whipped cream, but the flavors are very close to the original. I'm not going to lie—this cake is a lot of work, but it is well worth the effort in my opinion. You could make it less of a production by cutting the recipe in thirds or half and making the cake one layer or two.
THE RECIPE
For a 9-inch three layer cake
FOR THE CAKE:
3 cups of nondairy milk
4 tsp apple cider vinegar
1 cup nondairy yogurt
3 Tbls vanilla extract
1 1/3 cup vegetable oil
2 cups vegan sugar
5 cups unbleached all purpose flour
1/2 cup tapioca flour (or you can use cornstarch)
3 tsp baking powder
2 tsp baking soda
2 tsp salt
Preheat oven to 350 F. In a bowl, mix the milk and vinegar to curdle. Add yogurt and stir. Add remaining wet ingredients and sugar and stir well. In a separate bowl, mix dry ingredients. Add dry ingredients to wet and mix until no large lumps remain.
Grease three 9-inch round cake pans. Divide the batter among them. Bake the cakes for 35 minutes or until toothpick comes out clean. NOTE: I don't have three cake pans, so I baked two cakes first and then transferred them to cooling racks and baked the third one after that.  
FOR THE MOUSSE:
one 12 oz bag of vegan white chocolate chips
one package of aseptic (the kind that doesn't need to be refrigerated) silken tofu, extra firm
1 Tbls maple syrup or agave
1 tsp vanilla extract
In a food processor, blend the tofu, sweetener and vanilla until perfectly smooth. In a double boiler (or bowl set over a pot of water), melt the white chocolate chips. When the chocolate is melted, pour into the food processor and blend with the tofu until perfectly smooth and well combined.
FOR THE FROSTING:
NOTE: You can use a vegan whipping cream instead of the cream cheese frosting, if you find one you like.
1/2 cup vegan cream cheese
1/2 cup vegan shortening
3 cups vegan powdered sugar
2-3 tsp vanilla extract
1 tsp lemon juice (or to taste)
With an electric mixer, blend the cream cheese and shortening until smooth. Add the powdered sugar a little at a time and blend until smooth. Mix in the vanilla and lemon juice and adjust to taste accordingly.
ASSEMBLY:
3-4 cups of fresh raspberries
After the cakes have cooled, you can make the mousse. Once the mousse is made, place the first cake layer on a plate. Spread half of the mousse on top of the first layer. Lay fresh raspberries in the mousse. Really pack them in there side by side. Add another layer of cake on top. Spread the rest of the mousse on top of the second layer of cake and repeat the layer of raspberries. Place the third layer on top. Place the cake in the fridge while you make the frosting. Make the frosting. Hint: the frosting looks best if you spread it on the cake in two phases. First, cover the whole cake with a very thin layer of frosting. Place it in the fridge and let it chill. This will make it easier to get a nice looking top layer of frosting. Add the second layer of frosting and top the cake with fresh raspberries or edible flowers. Keep refrigerated until ready to serve.
Enjoy!