Happy Friday to you all! Things have been crazy busy here. This week is — no, was — spring break, and I had envisioned getting caught up on things that fell to the wayside during the last weeks of teaching last quarter and then having some time to relax and, you know, have a break. I had envisioned writing some new blog posts, taking some nice long naps, doing some gardening, cooking, and so on. But alas, the week is nearly over and I still have a monstrous to do list ahead of me. Oh well!
Anyway, all this to say that when I'm buried in work, I daydream about new fun projects to do. This week, I've been daydreaming about starting a new e-book.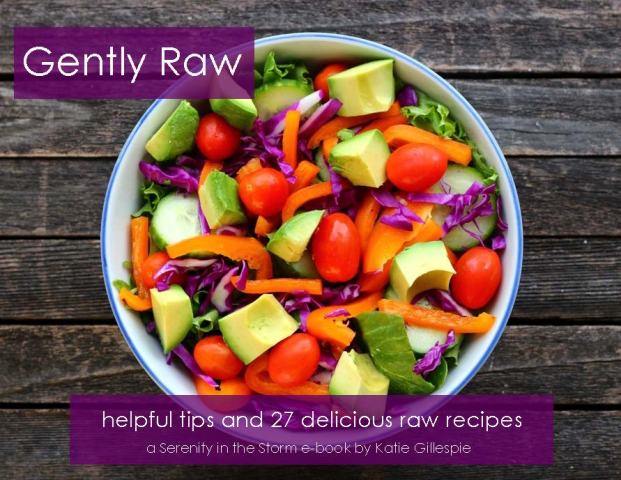 If you missed the first one, you can read more about Gently Raw here. I realize that raw foods might not be for everyone, so I'd like to do a book that is focused on more cooked foods. Of course, it will be all vegan, delicious and accessible recipes, but I'm not quite sure what the theme should be!
Here's where I'd like your help! What new e-book would you like to see? I'm listing the ideas I've had here and I would love it if you could comment below with your top picks. And, of course, if you have other ideas for e-books that you would love to see, let me know below!
1. Best of Serenity in the Storm (all of the most popular recipes from the blog with some brand new soon-to-be favorites)
2. Seasonal Recipes (a four-book series, one for each season, featuring in-season produce and flavors)
3. Comfort Food Recipes (recipes for those days when you want to eat something warm, satisfying and cozy)
4. Party Food (easy to eat party food recipes: birthday, baby shower, bridal shower, wedding, Superbowl, New Years Eve, etc.)
5. Brunch! (my personal favorite meal…sweet and savory breakfast and brunch recipes, with some fun drink ideas)
I would be so grateful if you could please comment below and let me know your thoughts. Got other ideas? I'd love to hear them!
Connect with Serenity in the Storm on Facebook, Instagram, Pinterest and/or Twitter. To check out and/or purchase Serenity in the Storm's new e-book, Gently Raw, CLICK HERE.