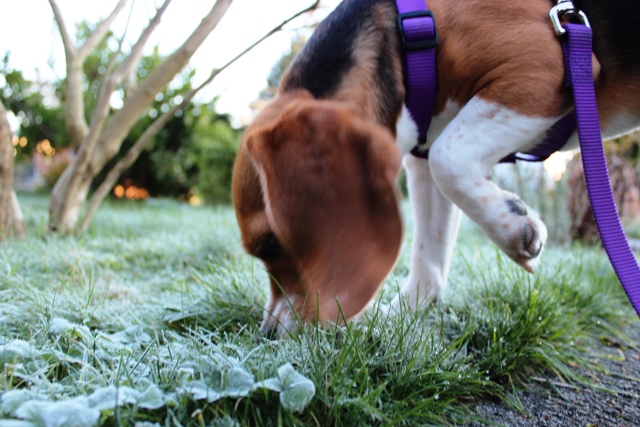 Maizy's testimony this week reminded me that it's been a while since I've given an update on how things are going with Saoirse. If you're new to the blog, Saoirse (pronounced SEER-SHA) is a beagle we adopted from a research lab this past fall where she was used for blood draws/transfusions in medical research. When she came to us, she had never been outside before — she'd never seen the grass or the sky or a cat or a couch. If you missed the first posts on her story, you can read more here, here and here. 
After 4+ months with us, Saoirse is more at home than ever. Each day it seems like her personality comes out a little more. And let me just say that this little dog is funny! Every morning, while we're getting ready for the day, she runs to our dirty laundry pile and, piece by piece, drags all of our dirty clothes into the living room and makes a nest for herself on one of the dog beds or on the couch. She piles up all the dirty laundry and then rolls around in it. Throughout the day, the laundry gets dragged and strewn around the living room so that by the afternoon there are dirty socks, underwear, t-shirts, sweatshirts, and jeans everywhere! She's really a tiny dog, so some of the clothes, like jeans, are heavy and hard to drag, but she is very determined and is extremely proud of herself when she makes it to the couch with a particularly large article of clothing.
She also continues to learn a little more each day about how to play with Maizy and she's taken to trying to play with Eden (one of the cats). She and Eden are about the same size and Eden regularly gets a little rambunctious and bounds around the house. Saoirse tries to play with him. They've begun chasing each other a bit, and though at first Eden was pretty freaked, he actually seems to enjoy it now.
Saoirse is still pretty afraid of most people (other than us) and she really found her voice during my dad's visit over the holiday. It got so bad while he was here that any time he moved or came into the room or made weird noises, Saoirse would start howling and growling at him. Now, she does that with most people we see on the street during our walks.
I'd be lying if I said things have been easy with helping Saoirse adapt to life in a house. She is not housetrained and that has been a really hard thing for her to learn as an adult dog. As we've been trying to help her learn not to pee/poop in the house, there have been A LOT of accidents. Last weekend we had to clean the two rooms that have carpets with a steam cleaner. We went over them 7 times and they still smell like pee (they'll have to be replaced). A week or so ago, I started on a more rigorous regimen of housetraining. We go out every hour on the hour to the exact same spot in the yard. We stand there until she pees. Those first couple of days, I was spending more time in the yard waiting for her to pee than I was spending in the house working. When she pees or poops, I praise her lavishly and give her a treat while she's in the act. Any accidents in the house are ignored and cleaned up without comment. Now, she's got a pretty good routine and she'll pee in the yard immediately when I take her out. Eric is now on break from work, so he'll have time to get this system down with her, too. Every few hours, we go on a real walk around the neighborhood.
In spite of the frustrating walk/accidents thing, things are going so much better than we expected. She is such a sweetheart and she is probably one of the most loving animals (human or nonhuman) I've ever met. She still sleeps snuggled under the covers between us in bed and loves to snuggle on the couch in front of the TV. Anytime we sit down, she leaps onto our laps and showers us with kisses. 
So there it is — a quick Saoirse update! Happy Valentine's Day, by the way!