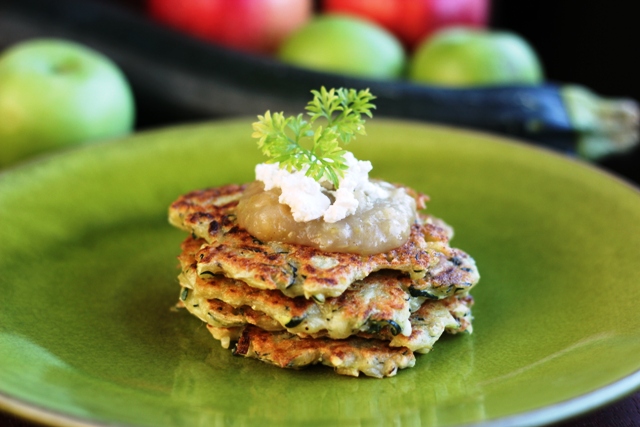 What should you make when the end of zucchini season runs into apple season? Zucchini pancakes topped with fresh homemade applesauce, of course! I've always been a fan of latkes (a traditional Jewish potato pancake dish) and I've always loved them topped with both applesauce and sour cream. This recipe is reminiscent of that. I used some of the Soft Fresh Cassucio variety of Kite Hill cheese to crumble on top instead of sour cream, but a dollop of vegan sour cream would be wonderful. There's something about the sweetness of the applesauce paired with the salty sourness of the cheese or sour cream that pairs perfectly with the pancake. I used a combination of gala and granny smith apples for the applesauce. You can used whatever apples you like.  This is the perfect warm, comfort food meal to celebrate the beginning of fall, the end of zucchini season and the abundance of apples at this time of year.
The Recipe
FOR THE APPLESAUCE:
Makes about 1 1/2 cups of applesauce
5 large assorted apples (whichever variety you prefer — I used 3 large granny smith and 2 gala)
Juice of 1 lemon
1/4 – 1/2 tsp cinnamon
splash of water (about 2 – 3 Tbls)
FOR THE PANCAKES:
Makes 8 4-inch pancakes
2 cups of grated zucchini
1/4 cup finely chopped/grated onion
1/4 cup cornstarch
1/2 cup of flour (I used Bob's Red Mill gluten-free all purpose baking mix)
1/2 tsp salt or to taste
generous grinds of black pepper
2 Tbls vegetable oil for frying
FOR THE APPLESAUCE:
Peel and core apples. Dice into small pieces and add to medium saucepan with lemon juice, splash of water, and cinnamon. Cover and let simmer on medium/low heat for 20 minutes or so, stirring occasionally. It should get nice and applesaucy. If you want it chunky, serve it as is. If you want it smooth, you can use an immersion blender or a food mill to dissolve the chunks.
FOR THE PANCAKES:
Grate zucchini and squeeze out the excess moisture from it with your hands (you don't have to go crazy getting the moisture out — you do want a little moisture left to mix with the dry ingredients). In a bowl, mix the zucchini with the other ingredients. It helps to just combine these with your hands so you can make sure the dry ingredients get fully incorporated. Heat a griddle with the vegetable oil on medium heat (slightly on the higher side of medium). Form balls of the batter with your hands and pat them into flat patties (about 1/2 or 1/4 inch thick). When the pan is hot, place the patties onto the pan and let fry for 4-5 minutes on the first side and a few minutes on the other side. They should be golden brown and crispy on the outside and softer on the inside. Serve immediately with a couple of spoonfuls of warm applesauce and a dollop of vegan sour cream, if you desire.  Enjoy!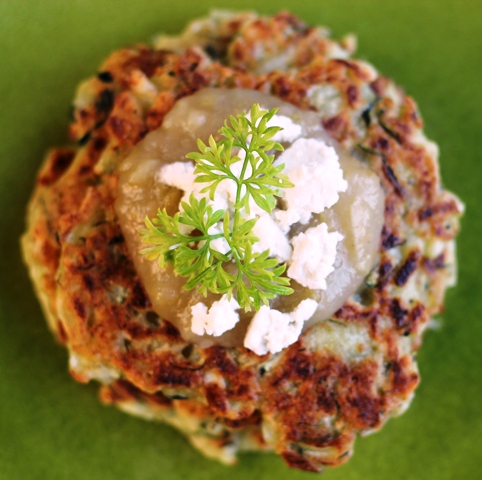 Find Serenity in the Storm on Facebook, Instagram, Pinterest and/or Twitter.