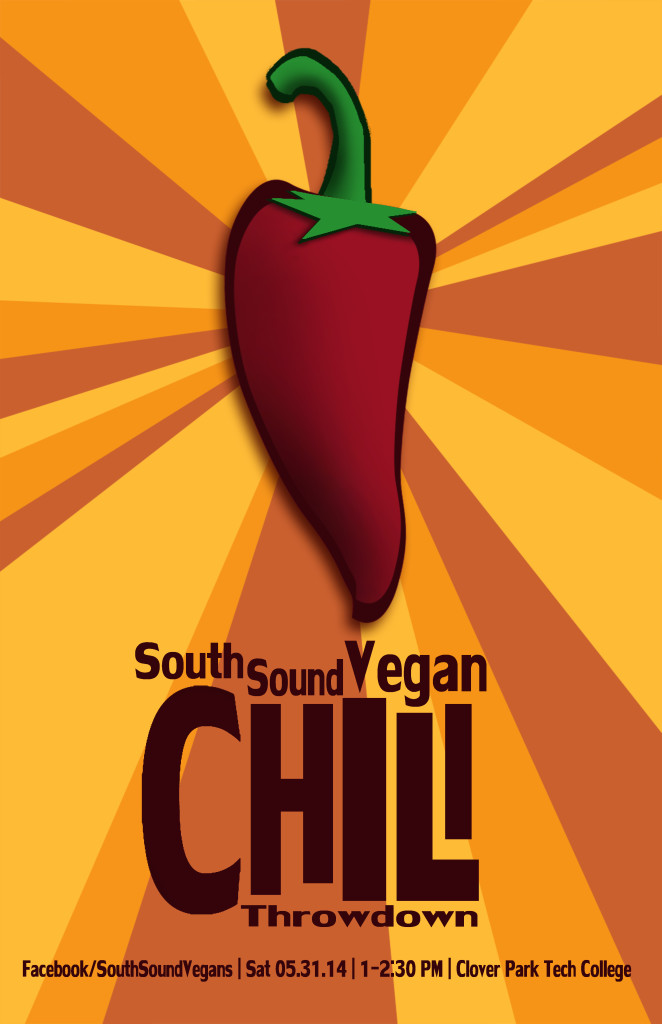 Calling all chili lovers, chili makers, and pig lovers! Here is an awesome event put on by the South Sound Vegans where you can show up for a chili contest, eat delicious chili, win prizes and raise money for Pigs Peace Sanctuary. As you're probably aware, if you've been reading my blog for a while, I am a huge fan of Pigs Peace — a sanctuary for pigs in Stanwood, WA. What you might not know is that I am also a huge fan of chili. My all-time favorite chili is my mom's secret green chili stew recipe — that stuff is amazing! But onto the important details…
The Vegan Chili Cook-off this year is being held in Lakewood, WA at the McGavick Conference Center at Clover Park Technical College on May 31 from 1:00-2:30pm. Tickets are $10 for adults, $5 for kids, and $5 to enter your own chili in the contest. You can purchase tickets here. There are 1st, 2nd and 3rd prizes for chili, and there are also prizes for people who donate $25 or more to Pigs Peace at the event.
Any questions? Contact the lovely Mae Tipple at chilicontest@outlook.com.
I hope you all can make it. This should be a fantastic event! I'd recommend getting tickets soon before they sell out!
Connect with Serenity in the Storm on Facebook, Instagram, Pinterest and/or Twitter. To check out and/or purchase Serenity in the Storm's new e-book, Gently Raw, CLICK HERE.