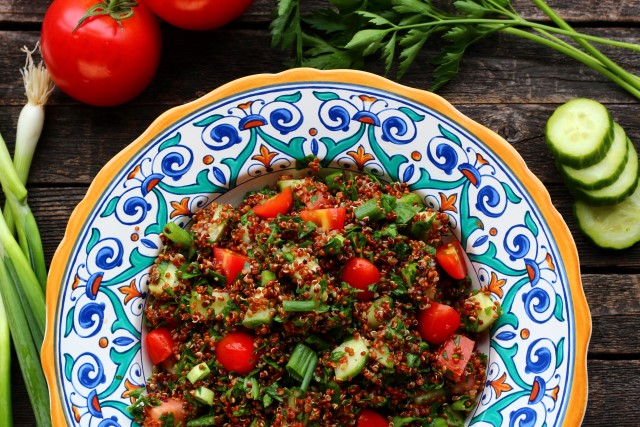 Things over here have been pretty basic these days — just trying to hold things together as I finished my dissertation, travelled out of town to conferences, and then got slammed with a grisly upper respiratory bug (is it possible that the month of May could be summed up so easily? Sadly, yes.) — and cooking anything at all has been a feat. Except for cutting up watermelon into cubes and making smoothies, this tabbouleh is probably actually the only thing I've 'cooked' in the last month. Pretty sad, I know. But I'm hoping to ease back into the cooking and living well and blogging again because I am defending my dissertation on Wednesday and, for now, I'm allowing myself to believe that I will have this huge expanse of mental and emotional space and energy open up after that event. Fingers crossed! Anyway, I have a recipe to share with you all and it is so ridiculously easy and delicious, I'm surprised I haven't posted it on the blog before now.
Tabbouleh is always one of those things I forget about and then, when I remember it exists, I'm like "Oh MAN! How did I forget about this awesome food?!" And then I make it everyday for a while until I forget about it again, and then the cycle starts over again. I'm in one of those tabbouleh loving phases where I'm making it everyday and eating huge plates of the stuff. I like to eat it with a few dollops of hummus on top and I mix in the hummus in little bites as I go. If you're feeling ambitious, you can make this as part of a larger meal — with hummus, pita, dolmas (stuffed grape leaves), falafel, etc. However, it really is divine just on its own, or as a side salad for other stuff you're already making. Tabbouleh really tastes like summer to me: the bright, fresh flavors of the parsley, tomatoes and lemon and the moist crunch of cucumbers. A note: you can improvise as much as you like with this by adding other things, like mint or bell peppers, more cumin, other spices (some coriander might be nice?), more lemon juice, etc. Adjust it to your personal tastes. The recipe here is just a guideline.
The Recipe
Makes about 8 cups prepared salad
1 cup dry quinoa, cooked according to directions (I used red quinoa)
1 large bunch flat or curly leaf parsley, minced
2 medium tomatoes, diced or 1 cup cherry tomatoes, halved
1 cucumber, diced
1 bunch green onion, diced
1/2 TSP ground cumin seed
juice of 1 lemon
salt and pepper (if desired)
Cook quinoa, fluff, and set aside to let cool completely. [Note: I use the method of bringing 1 cup of quinoa to boil in 2 cups of water, then cover, turn off the heat and it cooks itself quite nicely.] Chop all ingredients. In a large mixing bowl toss quinoa with vegetables and parsley. Stir in cumin and lemon juice. Serve on its own or with a little hummus as an add-in.
Connect with Serenity in the Storm on Facebook, Instagram, Pinterest and/or Twitter. To check out and/or purchase Serenity in the Storm's new e-book, Gently Raw, CLICK HERE.