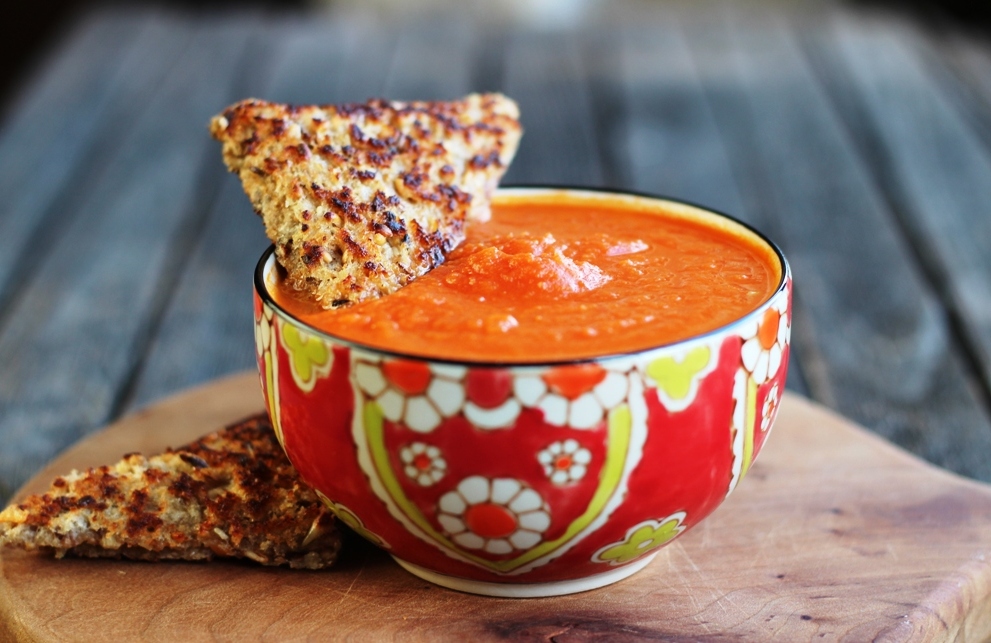 A new spin on an old classic — grilled cheese and tomato soup. This tomato soup is spicy, creamy and full of Thai flavors (ginger, red curry, coconut milk). Perfect for any time of year. This would make a super easy weeknight meal — the soup itself can be ready in about 20 or so minutes and you can cook up the grilled cheese in the last few minutes.
I've never been a fan of the vegan cheeses (I'd generally prefer to not have cheese than have the vegan ones), but recently I turned a corner with Daiya when I realized that the trick is to only use a tiny bit. This grilled cheese has quickly become a favorite lunch item for me and it's a perfect pairing with the spicy tomato soup.
Thai Tomato Soup: The Recipe
Serves 2 – 3
splash of vegetable oil or water
1 small/medium sweet onion, diced
1 TBLS fresh ginger, grated
~1 TBLS red Thai curry paste (you can get this at most Asian markets)
1 large can of diced tomatoes
1/2 CUP coconut milk (I used 'Light' coconut milk)
In a medium pot, sauté the onions for about 3-5 minutes in oil or water. Add the ginger and stir regularly for another couple of minutes. Stir in the curry paste. Add the can of tomatoes (liquid and all). Stir to combine and bring to a simmer. Simmer for about 5 minutes. Stir in the coconut milk and then blend with an immersion blender or in a blender or food processor to puree (Note: you can skip this step if you prefer a chunky soup). Warm before serving, if not serving right away.
Grilled Cheese: The Recipe
Serves 1
2 slices of your favorite bread (I like Dave's Killer Bread for this — The Good Seed kind is awesome)
a handful of shredded Daiya vegan cheese (or other vegan cheese of your choice – I like Daiya's mozzarella or cheddar for this)
spread of vegan butter or margarine
Heat a pan on medium/low heat (not too high because it will burn the sandwich!). Spread butter/margarine on both pieces of bread. When the pan is hot, set one piece of bread on the pan, butter-side down, and sprinkle the cheese on (not too much, a thin layer is good enough). Place the other piece of bread on top of the cheese, butter-side up. Cook on each side for 3 minutes. Keep checking it; you want the bread to be crispy and nicely browned and the cheese should be melted. Cut in pieces and serve with the soup!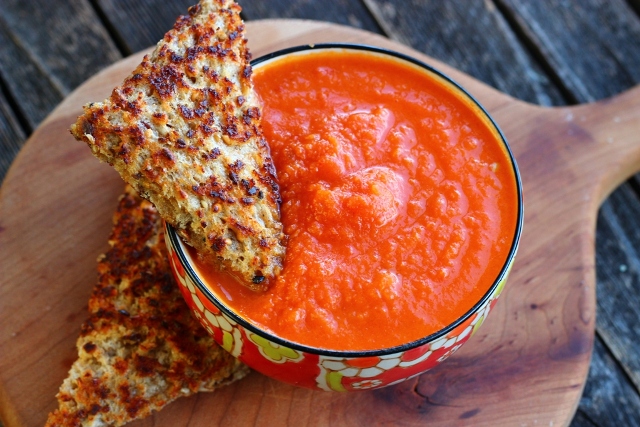 Enjoy!
Connect with Serenity in the Storm on Facebook, Instagram, Pinterest and/or Twitter. To check out and/or purchase Serenity in the Storm's new e-book, Gently Raw, CLICK HERE.