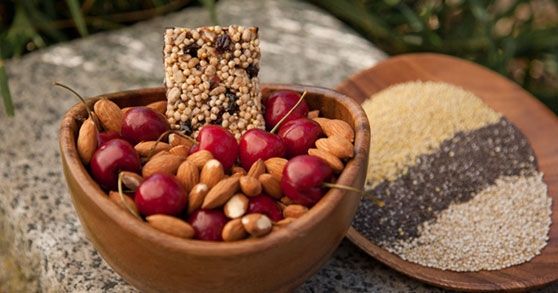 Recently, someone from Two Degrees contacted me and asked if I'd like to sample and review their bars. I've had the chance to try them and have Eric, his mom and stepfather and Karen and Oliver try them as well. So I think we've got a pretty wide age and gender demographic of sampling. I'll get to our thoughts in a minute, but first a little about the company.
Two Degrees operates on the one-for-one model. They are concerned with ending childhood hunger and have set up a system whereby each bar purchase results in Two Degrees buying a meal for a child who is hungry. According to Two Degrees' website, nearly 1 billion children suffer from hunger or undernourishment globally. The meals Two Degrees donates are nutrient dense and medically formulated nutrition packs that are (as much as possible) produced locally nearby the communities consuming the meals. For distribution of the meals, they partner with nonprofit organizations like Partners in Health (founded by Paul Farmer) and others around the world. So far, they have donated over 500,000 meals in Haiti, Somalia, India, Kenya, and Malawi.
Now to the bars, which come in four flavors–cherry almond, chocolate banana, chocolate peanut butter, and apple pecan. They are all vegan and gluten-free. The bars are all chewy, a mixture of grains like quinoa, millet, and chia and some have crisped rice, seeds, and nuts (though the chocolate banana is nut-free). They also contain various dried fruits and are sweetened with brown rice syrup. Sample ingredients (from the cherry almond bar) are: Brown rice syrup, Unsweetened cherries (Cherries, Sunflower oil), Sunflower seeds, Brown rice crisp (Brown rice flour (Rice flour,Rice bran), Calcium carbonate), Prunes, Almond butter (Almonds), Almonds, Chia, Quinoa flake, Millet, Plum puree, Natural flavor, Sea salt, Vitamin E from sunflower seeds (to preserve freshness).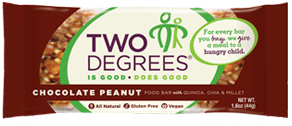 My thoughts on the bars were that the cherry almond was my favorite out of the four. They were all very sweet for my taste (more like something I would want to eat a bite of for dessert rather than as a snack bar). I tend to not get bars with added sweeteners in them (though these do use brown rice syrup rather than sugar, so that's good). I'm also generally not a fan of bars with grains in them. For instance my favorite bars are the LaraBars, which are literally just dried fruit and nuts. But as far as grain-based bars go, I liked that these were made with quinoa, millet, and chia and I liked that you could see all of the grains and seeds in the bar.
Other individual thoughts on the bars:
Oliver (6 years of age): Oliver said the bars were "very good." He liked the chocolate banana better than the cherry almond and said that it had a "very distinctive flavor" and that is tasted like "50% banana and 50% chocolate."
Karen (Oliver's mom): Karen thought the bars were too sweet, and that some of them were not crispy enough (she likes a bar that is chewy with some crispiness to it).
Eric (40 years of age): Eric has a real sweet tooth and tends to like sweet snack bars. For this reason, he thought the Two Degrees bars were pretty. He thought they were definitely one of the better bars he's tasted, but not his favorite.
Ruth and Chuck (~65 years of age): Ruth liked the apple pecan bar, but was not as enthusiastic about the cherry almond. Chuck enjoyed the chocolate peanut butter bar.
Just a few thoughts on the Two Degrees bars and a little information about this relatively new company! 
Have any of you tried them? Do you have any thoughts on the one-for-one model that has been popularized by companies like Toms Shoes?