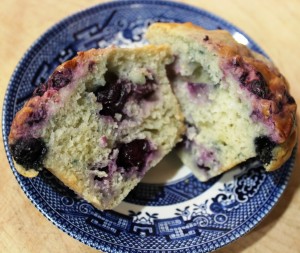 When we were snowed in last week, I got an unreasonable hankering for blueberry muffins. And not just any blueberry muffins…cream cheese blueberry muffins! We trudged up to the grocery store in the snow with Maizy (she loves the snow!) and got some frozen blueberries and some pretzels (for snacking, not for the muffins). These muffins were outrageously good. Seriously. Best warm from the oven or the same day. They were moist, just sweet enough, and the cream cheese topping gave them a creamy finish. If you prefer to leave off the cream cheese mixture, these would be perfectly delicious without it.  And if you happen to make them when blueberries are in season, fresh blueberries would be divine.
The Recipe
Makes about 10 muffins
For the muffin batter:
2 cups of flour
2 tsp baking powder
1/2 tsp baking soda
1/2 tsp salt
2/3 cup nondairy yogurt (soy or almond)
1/3 cup vegetable oil
1/2 cup sugar
1 1/2 cup blueberries
1 tsp vanilla
1 Tbl lemon juice
1 tsp lemon zest
1 cup nondairy milk (e.g, rice)
For the cream cheese mixture:
1/2 cup blueberries, thawed
1/2 cup vegan cream cheese
1 tsp lemon juice
1/2 tsp lemon zest
1/2 tsp vanilla
2 Tbls powdered sugar
Preheat oven to 350 F. To make the batter: In a small bowl, mix 1/4 cup of the flour with the blueberries. Set aside. Mix dry ingredients in large mixing bowl. In separate bowl, mix wet ingredients. Stir wet ingredients into dry. Stir in blueberries. Fill muffin tins with batter.
To make the cream cheese filling: Beat together all of the ingredients until smooth (some chunks of blueberry are fine). Using a pastry bag, or simply a spoon, nestle some of the blueberry cream cheese mixture into the top of the muffin batter in the tin: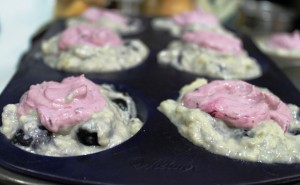 Bake for 30-40 minutes at 350 F. If you omit the cream cheese step, you may want to check them sooner as they may cook more quickly without it.
You should really try one as soon as they're cool enough to eat without burning yourself. They were heavenly.