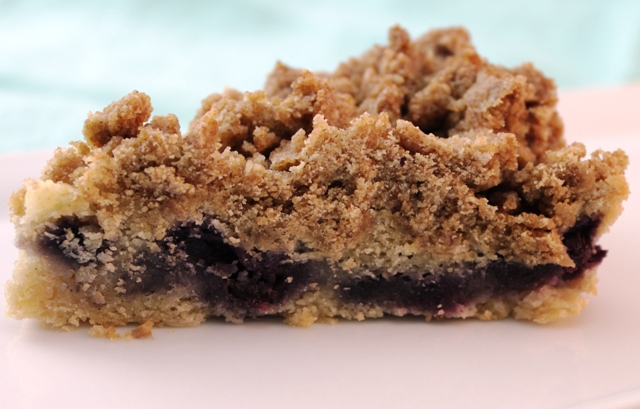 I went back to the naturopath on Monday and was graduated from a no-grains-except-brown-rice diet to a gluten-free diet. This opened up another world of grains and flours and I celebrated this week by experimenting with a gluten-free coffee cake. I have to say, I haven't had a ton of gluten-free vegan baked goods that are actually good. Gluten-free baking is usually augmented by tons and tons of eggs. My brother- and sister-in-law's wedding cake, for instance, was gluten-free and was made with 85 eggs. Yikes. Vegan, gluten-free baking requires a good binder and the right combination of gluten-free flours or it comes out pretty sandy. The other trick with GF baking is to keep the ratio of bean flours to a minimum — garbanzo bean flour is a common GF go-to option, and can taste, well, a bit *beany.* Rice flours, corn flours, etc. mixed in can help balance out the flavors. The picture may not be 'all that', but this coffee cake turned out to be pretty damn delicious. I'm sure you could sub in wheat flour instead, though I haven't tried that.
The Recipe
Makes 1 8-inch round cake
Streusel/Crumble Topping:
1/2 cup brown sugar
1/3 cup coconut oil, melted
1 tsp cinnamon
pinch of salt
1 1/3 cup gluten free flour (I used Bob's Red Mill All-Purpose Flour)
Cake: 
1/2 cup gluten-free flour (like Bob's Red Mill All-Purpose)
1/2 cup corn flour
1/3 cup granulated sugar
1 Tbls baking powder
1/2 tsp salt
1/4 cup coconut oil, melted
1 1/2 tsp vanilla
1 cup nondairy yogurt (I used vanilla coconut milk yogurt)
1/8 tsp lemon zest (or more to taste)
~1 cup blueberries (fresh or frozen)
Preheat the oven to 325F and grease an 8-inch round cake pan (or a square pan — whatever you've got about that size). Make the streusel topping first. In a bowl, combine all streusel ingredients except for the flour. Stir well until fully combined. Stir in the flour and then pack down firmly in the bowl and set aside. This process helps you get nice chunks of crumble topping instead of just dusty crumble on top.
For the cake, mix the flours, baking powder, and salt in a bowl. In a separate bowl, mix the sugar, lemon zest, vanilla, coconut oil, and yogurt. Add the wet ingredients to the dry and stir until fully combined. Stir in the blueberries at the end. Spread batter into the pan. Using a spoon or your fingers, crumble the topping on top, keeping the chunks about 1/2 inch – 3/4 inch in size. Bake for 45-55 minutes — just until a toothpick comes out clean.
Enjoy for dessert or for breakfast with a nice hot cup of coffee or tea. Yum!
Have you had much experience with gluten-free, vegan baking? Any wild successes out there that we should know about in the form of recipes?