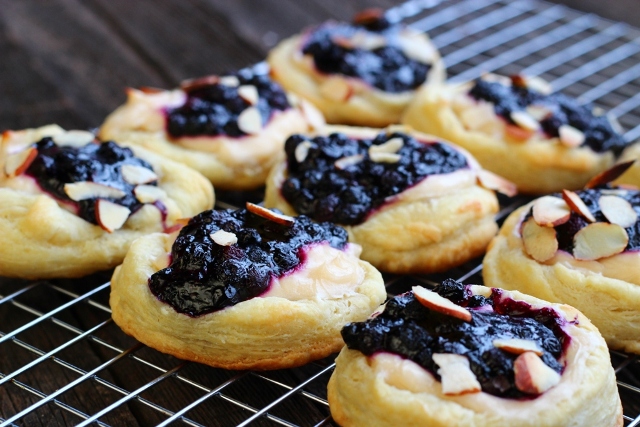 Last week was one of the toughest weeks I've had in a long time and then, on top of everything else, it ended with the death of my grandmother. In true Gillespie fashion, when the going gets tough, the tough eat. My grandmother used to make blueberry pies in the summer. We would go blueberry picking (and I would end up eating the blueberries in the field until my stomach hurt) and then come home with gallons of blueberry and she would get into the kitchen (my sister at her side) to make some pies. My grandmother's kitchen has this distinct smell to it (hard to describe) and, even now, I still associate that smell with pie making.
Anyway, I love blueberry pie (though maybe not as much as my sister does) and I also have this weakness for blueberry cream cheese danish. I always see them at the grocery store, at bakeries, at Costco (in giant quantities) and I think "Mmmm, that looks so good" and then I move along because, of course, they're never vegan. Yesterday, I got a wild hair to make a vegan version. This is a fairly quick and easy version (I have not yet tackled making my own vegan puff) and I make no pretense that these are healthy. But they are yummy — creamy cream cheese, blueberries, a hint of tartness from the lemon, and the delicate crispiness of the pastry.
Blueberry Cream Cheese Pastries: The Recipe
Makes about 18 small pastries
1 package of frozen puff pastry (many brands are vegan, just check the ingredients), thawed
handful of slivered almonds (optional)
For the blueberry mixture:
3 CUPS frozen blueberries
2 TBLS cornstarch
2 TBLS sugar
1 TSP lemon juice
In a small sauce pan, heat the blueberries and sugar until the sugar is dissolved and the blueberries are simmering slightly. Add the cornstarch and the lemon juice and simmer to thicken. Turn the heat off and set aside.
For the cream cheese mixture:
1 8-0unce package of vegan cream cheese
1 TBLS lemon
1 TSP vanilla extract
1/4 CUP powdered sugar
Using an electric mixer or a hand mixture, beat the cream cheese together with the other ingredients until smooth and creamy. Set aside.
To assemble:
Preheat oven to 400° F. Roll out the puff pastry dough and cut out rounds with a cookie cutter (you can also get creative and cut these into any shape). Fold up the edges of the rounds just a little, so there is a little indent in the middle of the circle, for the cream cheese and blueberry filling. Spread a generous smear of the cream cheese mixture in the center of the round. Top that with a spoonful of the blueberry mixture. Sprinkle slivered almonds on top. Bake for 15 minutes, until lightly golden. Best the same day.
Connect with Serenity in the Storm on Facebook, Instagram, Pinterest and/or Twitter. To check out and/or purchase Serenity in the Storm's new e-book, Gently Raw, CLICK HERE.