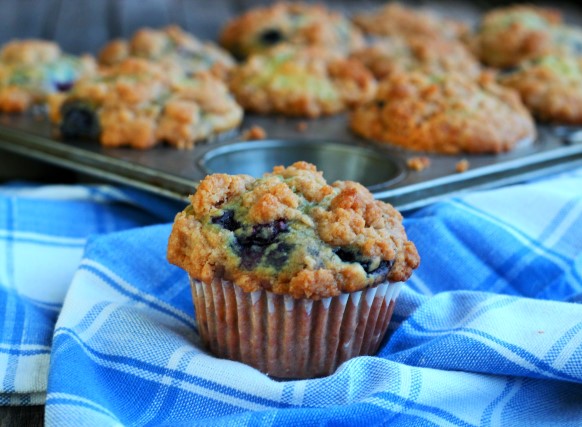 As promised in my last post, I have for you today a delicious coffee cake/muffin recipe. As I was panicking the day before my defense about whether to make coffee cake or muffins, I realized I didn't have to choose: I could make coffee cake in muffin shapes! I adapted this recipe from The Savvy Vegetarian and made some alterations to the recipe as I went. Here's what I came up with. These are moist, flavorful, citrusy and satisfy both a muffin and a coffee cake craving! They would be lovely for a special summer breakfast or brunch.
The Recipe
Makes about 18 muffins
FOR MUFFINS:
3 CUPS all-purpose flour (or 3 1/3 CUPS GF baking mix + 2 TBLS cornstarch for gluten free option)
1 1/2 TSP baking powder
1 TSP baking soda
1 TSP salt
2/3 CUP sugar
zest of 1 lemon
1/4 cup orange juice (I used the juice of one large orange)
2 CUPS nondairy milk (I used unsweetened coconut milk from the carton)
1/3 cup vegetable oil
1 TBLS ground flax seed
2 CUPS blueberries mixed with 1/4 CUP flour (or for gluten free, use GF baking mix)
FOR STREUSEL TOPPING:
3/4 CUP flour (for gluten free, use GF baking mix)
1/4 CUP white sugar
1/4 CUP brown sugar
1/3 CUP coconut oil
1/2 TSP cinnamon
DIRECTIONS: Preheat the oven to 375 F. Make the streusel topping first. Combine dry streusel ingredients and then work the coconut oil in with your fingers until it is well combined. If the mixture does not clump together slightly, you might want to add a tiny bit of water (half a TSP at a time) until the mixture just clumps together slightly. Set aside while you make the muffin batter. In a bowl, mix the muffin wet ingredients with the flax seed and lemon zest and stir to combine. In a separate bowl, mix together the dry ingredients. In a third bowl, toss the blueberries with the flour. Mix the wet ingredients into the dry ingredients just until large lumps are combined and gently fold in the blueberries. Line a muffin pan with cupcake papers and spoon the batter into the papers, filling the cups 3/4 of the way full. Sprinkle the streusel topping on top, distributing all the streusel evenly among the muffins. Bake for 25-30 minutes, just until a toothpick comes out clean and the tops are lightly browned. NOTE: If you are making the gluten free muffins, cooking time might be longer (up to 5 or 10 minutes more). Let sit for 5 minutes and serve warm, or serve at room temperature.
Connect with Serenity in the Storm on Facebook, Instagram, Pinterest and/or Twitter. To check out and/or purchase Serenity in the Storm's new e-book, Gently Raw, CLICK HERE.