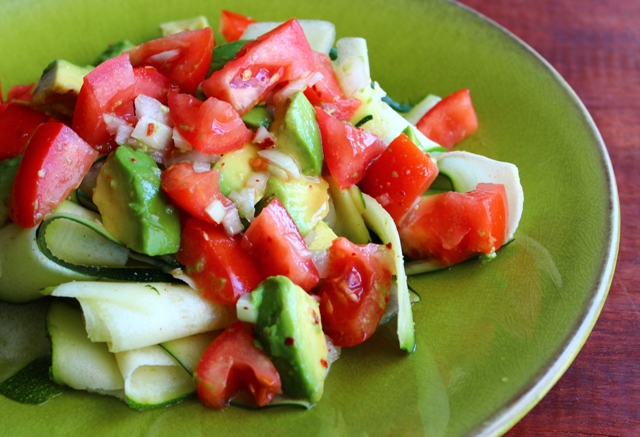 A lot of times I make foods that aren't what I would call blog worthy. They're things that I might enjoy eating in the moment, but they're not really the kind of thing I would ever necessarily serve anyone else (you know, like those meals where you open a can of beans, pour half the can straight into a bowl, add half an avocado and eat it). Not bad, but certainly nothing to write home about. Today for lunch, I was experimenting with raw food and trying to add a little pizzazz to my routine of mostly juice, salads and fruit. We've got a bunch of zucchinis sitting on the counter from the garden and I decided to build a meal around those bad boys.
How I made it: I grabbed a zucchini, lopped off a chunk and, using the vegetable peeler, made ribbons of raw zucchini. I tossed that in a bowl with the juice of half a lime and a dash of ground cumin. In a separate bowl, I cut up a tomato from the garden, half an avocado, a tiny bit of onion,  and tossed it with some lime juice, a little salt, and some dried red chili flakes. I topped the zucchini ribbon "noodles" with this little avocado salsa mixture. Pretty satisfying and tasty as far as an impromptu experiment of a lunch goes. Not sure if I would make it for anyone else, though.  Is it like pasta? Is it like salad? Kind of a little like both. A nice way to switch things up.
Have a good weekend!