The weather has started to turn rainy, which in Seattle is a sign of fall and winter coming. We're having more and more cloudy days (which I love!) and the temperatures are cooling. But heirloom tomatoes are still the star of the farmers markets. Heirloom tomatoes taste like summer and, paired with the fresh, bright flavor of basil — there's nothing better. Well, maybe there's something better. Creamy pesto and kalamata olive tapenade with some fresh basil leaves might be better!
I've been seeing these tomato and vegetable stacks scattered around the blogisphere and I've been itching to try my own version before the tomatoes are done for the season. For this recipe, I made a slightly different creamier version of my raw pesto and a batch of kalamata olive tapenade. This dish's 'raw' status is questionable with the addition of the tapenade (does anyone know if capers are considered raw? And I used powdered garlic instead of roasted garlic), but it's delicious and it's definitely a majority raw. It is rich and amazingly flavorful and the pesto and tapenade are a beautiful complement to the most delicious tomatoes out there.
The Recipe
FOR THE TAPENADE (Makes about 2 cups):
2 cups pitted kalamata olives
1/3 cup roasted garlic cloves or 1 tsp garlic powder
1/4 cup capers
1/2 cup fresh basil leaves
1/4 tsp dried thyme
1/2 Tbls lemon juice
black pepper and ground red pepper to taste
Instructions
Throw all ingredients in food processor and process until very finely chopped. Taste and adjust pepper and lemon juice to your liking. If you don't have a food processor or blender, you can chop all ingredients very finely by hand. Note: You can roast your own garlic, but if you're in a rush, you can buy some roasted garlic either in a jar or in the antipasto/olive bar sections of some grocery stores.
FOR THE CREAMY PESTO (Makes about 1 1/2 cups):
1/2 cup cashews
1/2 cup walnuts
1/2 cup pumpkin seeds
1/4 pine nuts
1-2 cloves garlic
2 Tbls lemon juice
1 1/2 cups basil leaves
1 cup fresh spinach
1/2 cup water
1/2 tsp salt
Note: You can use whatever combination of nuts/seeds you like. Get creative — this is just a guideline! Combine all ingredients (except for water) in the food processor and process until smooth. Add water a little at a time and process until you reach your desired consistency. If you want a pesto that is more liquid, add more water. If you want a thicker pesto, add less water.
FOR THE STACKS:
You want enough tomatoes for each person to have 4-5 slices of tomato. Choose a few different heirloom tomatoes of different colors that are all about the same size. Slice tomatoes 1/4-1/2 inch thick. Spread some pesto on the plate as the base. Add a tomato slice. Spread a layer of tapenade and add another tomato slice. Add a layer of pesto and then another tomato and another layer of tapenade. Add a few fresh basil leaves to one of the layers. Top the stack with a dollop of pesto and tapenade and a basil garnish, if you like. To eat, I recommend a fork and a sharp knife. The pesto and tapenade are plenty for at least 4-6 people. These will both keep in the fridge for about a week.
Bon appétit!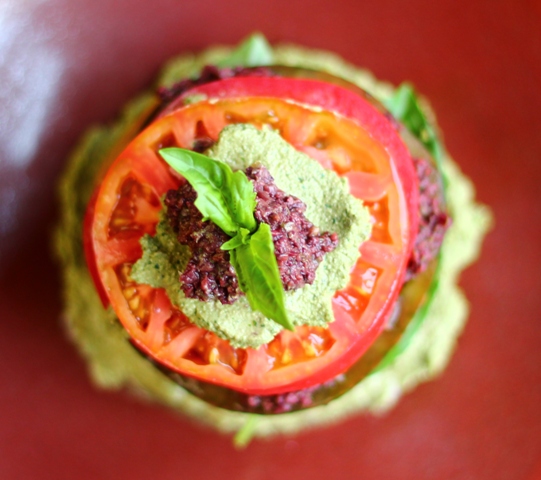 Follow me on Facebook, Instagram, Pinterest and/or Twitter.