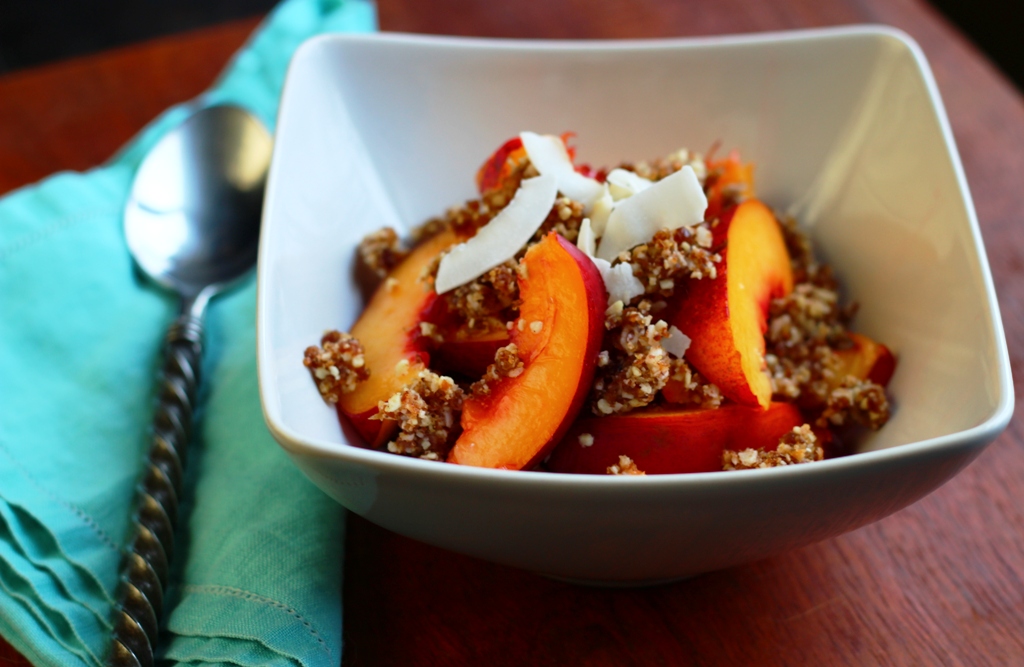 Morning! I woke up this morning to a foggy Seattle day and, as I was drinking my green juice and reading my blog reader, I was delighted to find that Carrie of Carrie on Vegan had posted two lovely recipes for peach crumble. Thanks, Carrie, for a little inspiration on a cloudy morning! I love peaches and nectarines and cinnamon sugary crumbly stuff. I love crumbles, crisps, cobblers — whatever you want to call them, they're delicious. But I've been eating raw lately and a cooked crumble is not on the menu for me at the moment, so I was inspired to make a little raw crumble of my own this morning for breakfast. If you want to make a cooked version, head over to Carrie's awesome recipes, but here is a raw version that you can be eating in less than 10 minutes. Eat it for breakfast, dessert, a snack… whatever! You can make this with any fresh fruit, too. Blueberries would be good, or blackberries… I used a nectarine since we didn't have any peaches in the house at the moment. I made enough crumble for probably 4 servings, but only ate one, so I just stuck the other three servings in a container for later.
This was a beautiful way to start the day! The bright and juicy taste of fresh nectarines, the richness of the cashews, coconut and date topping and the subtle hint of cinnamon and ginger. Simply delicious!
The Recipe
Serves 4
1/2 cup raw cashews
1/2 cup unsweetened grated or shaved coconut
1/2 cup dried dates
1/4 cup ground flax seed
1/4 tsp cinnamon
1/4 tsp ground ginger
1 Tbls water
4 peaches or nectarines, sliced
In a food processor, add all ingredients except the water and the fruit. Pulse until fine and well combined. Depending on the moisture content of your dates, you may not need any water, but if the mixture is quite dry, add a tablespoon of water and pulse to combine. The mixture should slightly hold together while still being crumbly. You don't want it to be wet. Slice peaches/nectarines (or assemble other fruit) in a bowl and crumble the topping on top. Garnish with a little shaved coconut and enjoy!