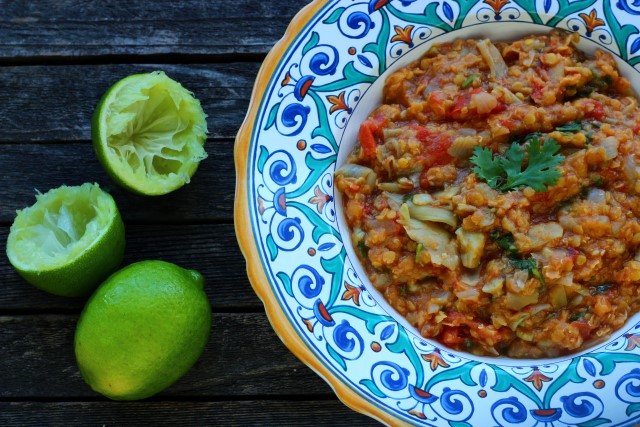 Things with Maizy have been rough. She spent last Friday in the ICU trying to get her IBD under control. She's stable for now and home with us. Her spirits are pretty good, and she's been resting a lot at home. It was an emotionally taxing weekend for all of us. During stressful times like these, it's nice to have some nourishing comfort food. This stew is really easy to make, filling but light enough to eat in summer, and it's also not bad cold. This is even good (and even more simple) without the artichoke hearts, if you don't have any lying around.
The Recipe
Serves 4-5
1 medium onion, diced
1 TSP ground cumin
1 TSP ground coriander
4 CUPS water or vegetable broth
1 CUP dried red lentils
1 16-OZ can diced tomatoes (with liquid from can)
~2 cups quartered artichoke hearts (canned with water drained OR frozen)
salt and red chili pepper to taste
1/2 CUP chopped cilantro
juice of 1 lime or lemon
Saute the onions in a little water (or splash of oil of your choice). When slightly softened, stir in the cumin and coriander and let the spices bloom for a few minutes. Add all other ingredients (except the lime and cilantro). Bring to a boil, cover, turn down to low, and simmer for 25-30 minutes until lentils are well-cooked and falling apart, and the flavors are mingled. Add the fresh cilantro and the juice of one lemon or line. Adjust salt and spice as desired. Enjoy!
Connect with Serenity in the Storm on Facebook, Instagram, Pinterest and/or Twitter. To check out and/or purchase Serenity in the Storm's new e-book, Gently Raw, CLICK HERE.