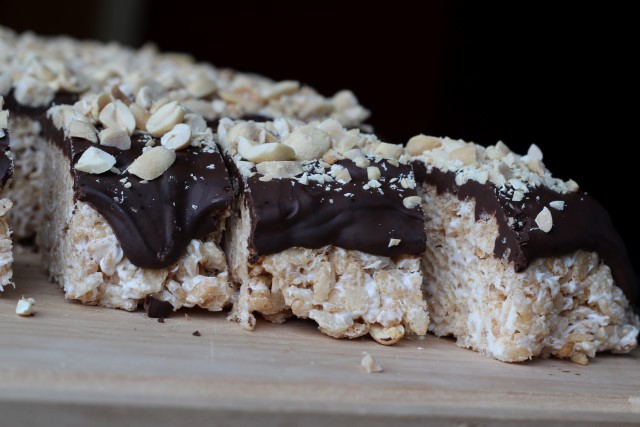 So yesterday was the last day of my summer class on doing multispecies ethnography and we spent the day at Pigs Peace Sanctuary. The students turned in their ethnographies on Tuesday and presented them for the class and so yesterday we spent our time volunteering at the sanctuary – it was raining hard the whole time and after we were done working, we all had lunch in the education center with Judy Woods (the director of the sanctuary) and Michelle, a volunteer. I brought the fixings for tacos and then made these rice crispy treats for dessert. They are vegan and gluten free.
(What makes regular rice crispy treats not vegan, you might wonder? Well, the butter for one, but that is easily replaced. And marshmallows contain gelatin, so I used vegan marshmallows from Dandies company, which you can get at natural foods stores like PCC or Whole Foods, or Vegan Haven in Seattle).
I'll do a full post with a recap of teaching soon, but for now here's the recipe for these tasty treats, which are so easy and quick to make.
The Recipe
Makes a 13×9-inch pan
1/4 CUP vegan shortening or coconut oil (plus a little for greasing the pan)
5 CUPS vegan marshmallows (I used Dandies brand)
7 CUPS rice crispies (I used brown rice crispies)
1 package vegan chocolate chips
1 TSP vegetable oil
1 CUP lightly salted peanuts, chopped
In a large saucepan, melt the shortening/coconut oil on low heat. Add the marshmallows and stir constantly until the marshmallows are completely melted, gooey and combined with the oil/shortening. When there are no lumps remaining, turn off the heat and stir in the rice crispy cereal. Stir until fully combined so that the marshmallow has evenly coated the cereal. Grease the 13×9 pan, and press the rice crispy mixture firmly into the pan. Let cool completely. Melt the chocolate chips over low heat (in a double boiler, or just very carefully in a well-insulated pan) and stir in the 1 TSP of vegetable oil. Turn the rice crispy treats (as one solid block) out onto a clean cutting board. Pour melted chocolate over the top and smooth out with a spatula evenly, letting it drip down the sides if you like (for dramatic effect, of course). While the chocolate is still warm, sprinkle the peanuts on top. Let cool completely. When cool, cut into squares and serve. Store in an airtight container if you're not planning to eat them all at once.
Connect with Serenity in the Storm on Facebook, Instagram, Pinterest and/or Twitter. To check out and/or purchase Serenity in the Storm's new e-book, Gently Raw, CLICK HERE.