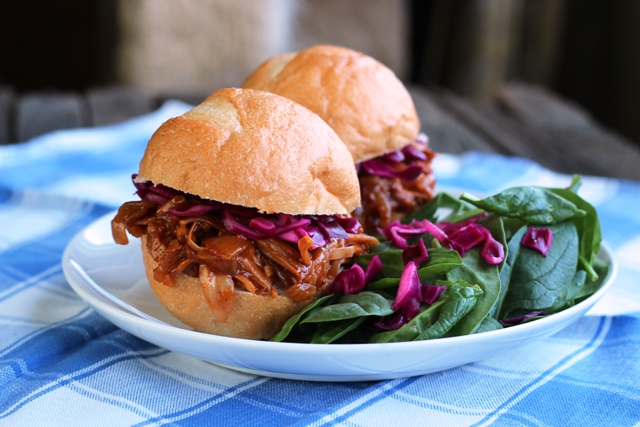 I don't know about you, but my southern relatives eat "barbecue." And when they say barbecue, they mean "pulled pork," usually in sandwich form. Growing up in "The North" (i.e., Pennsylvania), this always confused me since people in Pittsburgh would talk about having "a barbecue," which could mean eating any number of things. Nope. Where my Virginia relatives were concerned, barbecue was that one, singular dish.
Jackfruit in this recipe replicates the "pulled pork" texture and takes on the flavor of the barbecue sauce and spices you use without harming any pigs. Eric and I have spent time with the pigs at Pigs Peace Sanctuary and learned about the atrocious ways pigs live and die in the meat industry. Pigs are wonderful animals with dynamic personalities. They form deep friendships, they are incredibly intelligent by human standards of intelligence, and they love to have their bellies scratched just like dogs. I, for one, will never choose to eat a pig again.
Luckily, there are great alternatives, like these pulled jackfruit sliders! This is a dish everyone will enjoy.  It is incredibly easy to prepare. Note: It tastes best if you let it sit in the fridge all day or overnight to let the flavors combine.
About jackfruit: Jackfruit grows in Southeast Asia and you can generally find it in the United States in Asian food markets in a variety of forms. The kind you are looking for to use in this recipe is a canned product called "Young Jackfruit in Brine". Make sure you get the kind in brine, not the kind in syrup. A 20-ounce will likely cost between $1 and $2.
The Recipe:
Makes about 6 sliders
6 slider buns
1 20-ounce can of jackfruit (in brine)
3/4 CUP your favorite vegan barbecue sauce
1/4 CUP water
1 small onion, thinly sliced
1 large clove garlic, minced
1 TBLS olive oil
1/2 TSP smoked paprika
1/4 TSP ground red chili (optional)
ground black pepper to taste
For a simple cabbage slaw:
2 cups of cabbage (purple or green)
3 TBLS white wine vinegar
pinch of salt and pepper
FOR THE BARBECUE: Drain the jackfruit and rinse in a colander several times. Squeeze the jackfruit firmly (this may squish it slightly — that's fine, and even desirable). In a pot, sauté the onions and garlic for about 5 minutes in the olive oil. Add the smoked paprika and red chili (if using). Add the drained jackfruit and stir to combine. Stir in the barbecue sauce and the water. Simmer on low for 30 minutes. As it cooks, you should be able to pull apart the jackfruit with a fork or other utensil. Turn the heat off and let it cool. It's best if you let this sit in the fridge overnight (or at least make it in the morning and let it sit in the fridge all day until dinner time). This will let the flavors combine and is a necessary step in my opinion.
FOR THE SLAW: Thinly slice the cabbage. Add to a bowl with vinegar, salt and pepper. Let sit for a couple of hours in the fridge.
TO SERVE: Before serving, cover pot of barbecue and heat on low, stirring occasionally. Toast slider buns if you like. Add a spoonful of jackfruit mixture to the bun and top with cabbage slaw.