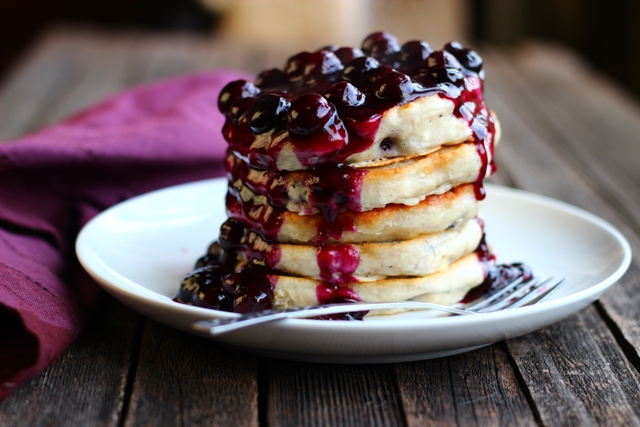 These pancakes are thick and filling with bursts of blueberry in them and the subtle hint of banana. Top with a delicious blueberry topping for an extra treat.
The Recipe: Blueberry Pancakes
Makes 10-12 4-inch pancakes
2 CUPS flour (feel free to use gluten-free flour if you like)
2 TSPS baking powder
pinch of salt
1 CUP frozen blueberries
1 1/2 CUPS nondairy milk
1 banana, mashed (or 1/2 cup applesauce, if you don't like banana flavor)
1 TSP vanilla extract
In a bowl, mix all dry ingredients. Toss the frozen blueberries into the dry ingredients and mix together. In a separate bowl, mash bananas and add milk and vanilla. Stir wet ingredients into dry gently and add more milk as necessary. The consistency should be a thick batter. Do not overmix (some small lumps are fine). Heat a frying pan or griddle to a low-medium heat. If you're using a nonstick pan, you can probably get away with not using oil to cook the pancakes. For a regular pan, add a splash of oil (vegetable, safflower, or coconut). When the pan is heated, use a measuring cup to scoop the batter onto the pan. You can make any size pancakes you want. The trick to cooking pancakes is getting the heat right. Too high a heat and the pancakes cook too fast on the outside, leaving the inside gooey. Too low a heat and the pancakes don't get a nice crisp and can still be raw in the middle. On a low-medium heat, cook the pancakes on the first side until they bubble and you see little holes appear. Flip the pancakes carefully and cook on the other side until nicely golden brown. Serve with some blueberry topping spooned over the top. Enjoy!
Blueberry Topping
Makes 2 generous helpings
1 1/2 CUPS frozen blueberries
1 TBLS cornstarch
2 TSP sugar
1/4 CUP (or more) water
In a small saucepan, heat the blueberries, sugar and water, stirring frequently. When the mixture is hot and the blueberries are hot, add the cornstarch and stir well to combine. The mixture should thicken. If it is quite thick, add a little extra water, one tablespoon at a time and stir to combine. When you have reached your desired thin/thickness, turn off the heat and serve over pancakes.
Find Serenity in the Storm on Facebook, Instagram, Pinterest and/or Twitter.